NOTE (Disclaimer): This post could potentially match another post on the internet because it has been taken from a book. It consists of questions and answers, which may not be unique and could be similar to other content. Therefore, there is a possibility of 100% plagiarism in this post.
However, it's essential to focus on gaining knowledge rather than just the content itself because finding solutions for yourself is crucial, regardless of whether the post is original. This post appears to have been sourced from a book used in the MP Board.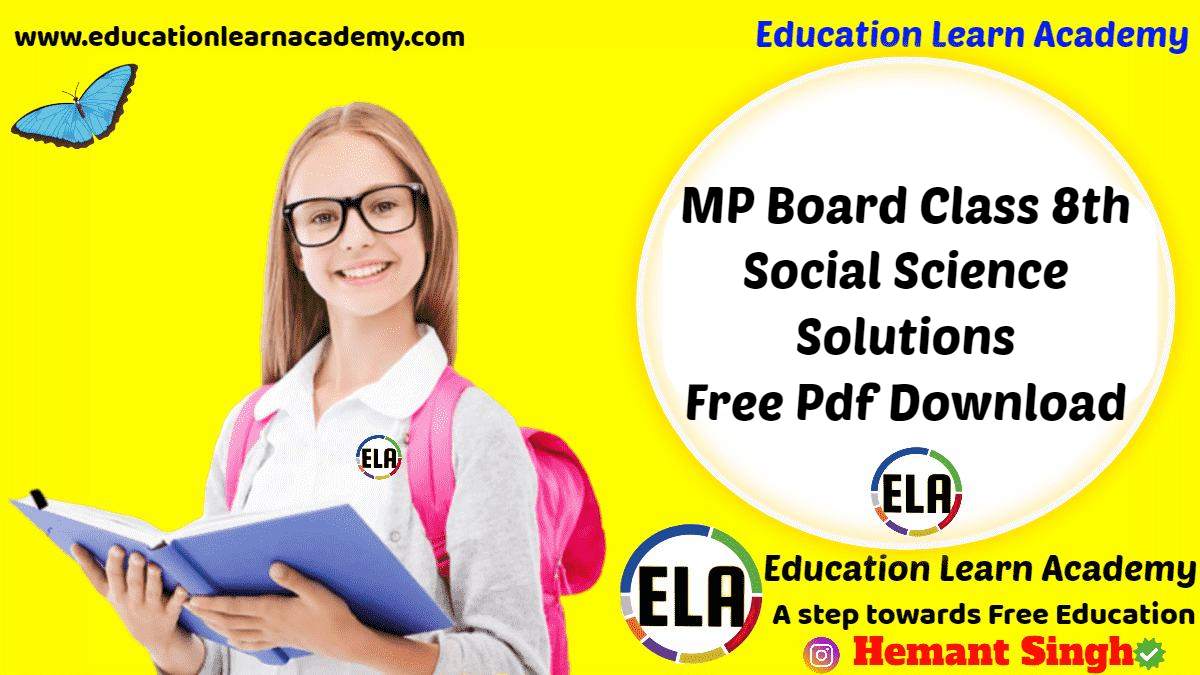 MP Board Class 8th Social Science Chapter 18 Text Book Exercise
Choose the correct option of the following.  
Question 1.
Who was not among the revolutionary activity in foreign country?
(a) Shamji Verma
(b) Sardar Ajeet Singh
(c) Madan Lal Dhingra
(d) Vinayak Damodar Savarkar

Answer:
(b) Sardar Ajeet Singh
Question 2.
Who hoisted Indian Flag in 1907 in Germany?
(a) Bhikaji Camma
(b) Lala Hardayal
(c) Mrs Annie Besant
(d) Lala Lajpat Rai
Answer:
(a)Bhikaji Camma
Question 3.
In which district of Madhya Pradesh Chandra Shekhar Azad was born?
(a) Jhabua
(b) Mandla
(c) Raisen
(d) Panna
Answer:
(a) Jhabua
Question 4.
Azad Hind Fauz was founded by

(a) Subhash Chandra Bose
(b) Capt. Mohan Singh
(c) Capt. Prem Kumar Sehgal
(d) Shahnawaz Khan
Answer:
(b)Capt. Mohan Singh    
Fill in the blanks :
Shyamji Verma founded in ……….. 1905 in London.
In 1908 Khudi Ram Bose threw bomb on ………….
Dev Narain Tiwari was hanged to death in …………
Answer:
Indian house in London
The carriage of the defamed judge Kingsford
1931.
MP Board Class 8th Social Science Chapter 18 Very Short Answer Type
Questions
Question 1.
Write the names of prominent revolutionaries of Madhya Pradesh?

Answer:
Chandra Shekhar Azad, Thakur Yashwant Singh, Dev Narain Tiwari, Dalpat Rao were the prominent revolutionaries of Madhya Pradesh.
Question 2.
Which villages were occupied by Basudev Balwant Phadke?

Answer:
Basudev Phadke was the leader of the revolutionary movement with the help of few people he occupied Dhamri, Balte Palspe villages in 1879.
Question 3.
Who was assassinated by Chapekar Brothers?

Answer:
In 1897 Damodar and Balkrishan Chapekar brothers murdered Rand, head of the Plague Committee and Lieutenant Amherst in Pune.  
MP Board Class 8th Social Science Chapter 18 Short Answer Type Questions
Question 1.
Describe about the revolutionary activities in abroad?

Answer:
Indian revolutionaries were active in other parts of the world also Shyamji Verma established 'India House' in London in 1905. He started sociolongistic magazine and scholarships.Vinayak Damodar Savarkar, Birendranath Chattopadhyay, Tirumal Acharya, Bhikaji Camma, Bhai Permanand, Madan Lal Dhingra and Lala Hardayal were the active members of this society. Madan Lal Dhingra in 1909 killed Curzon Vailer the Secretary of India.
He was hanged and Sarvarkar was sent to cellular jail at Andaman Island. In US the Ghadar party was formed in 1913. Lala Hardayal was the key activist of this party.
The Ghadar magazine was published. As the world was begun Lala Hardayal and his comrades went to Germany, Birendranath Chattopadhyay, Bhupender Dutt and Lala Hardayal founded Independence Committee in
Germany. The revolutionaries with their patriotism and self-sacrifice became the source of inspiration for the Indians.
Question 2.
What was Kakori Conspiracy? Describe it?

Answer:
Money was required to run the revolutionaries movements. A group of revolutionaries were successful in robbing the govt, cash at the Kakori Railway station on August 2. 1925 on Saharanpur-Lucknow line. Many of them were arrested after this incident and they were tried in the Kakori Conspiracy Case. Four of them Ram Prasad Bismil, Ashfaqullah Khan, Roshan Singh and Rajendra Lahiri were sentenced to death and 17 others were sentenced to long-term imprisonment.
Question 3.
Write the names of key organisation of the second phase revolutionary movement?
Answer:
The following were the main revolutionary organisations of the second phase:
Youth sabha founded by the Bhagat Singh, Yeshpal and Chhabildas.
Hindustan Democratic Republic
Hindustan Socialist Republic Association. In 1928 Chandra Shekhar Azad, Sachidra Nath Sanyal, Ram
Prasad Bismil together changed the name of Hindustan. Republic Association as Hindustan Socialist
Republic Association.
Azad Hind Fauz. It was founded by Captain Mohan Singh.
MP Board Class 8th Social Science Chapter 18 Long Answer Type Questions
Question 1.
What were the reasons of the rise of revolutionary movement?

Answer:
The aim of this movement was to change the system based on injustice and to end the oppression of Indians by the British govt, in India. To free the Indian people and to tolerate hardships to get the freedom from 'English Rule'.
The main factors of the rise of the revolutionary movements were: 1. Economic Disparity:
At the end of the 19th century and early years of 20th century was the period of famines and epidemics. The apathy by the British govt, on such time added fuel to fire the resentment among Indians.
2. Lord Curzon's Policy:
The senate system followed after Indian University Act. 1904 was the cause of resentment in educated Indians. The govt, confidential ordinance and Calcutta Corporation ordinance contributed more resentment in the Indian people. 3. Partition of Bengal (1905):
The division of Bengal in two parts under the policy of divide and rule by Lord Curzon angered the whole nation and it created sense of devotion and sacrifice among the young Indians.
4. International events:
The independence movements of America, France, Italy, Germany and Ireland inspired Indian revolutionaries too In 1905 the Japanese won over Russia instilled sense of new awakening among the Indians.
Question 2.
What methods were adopted by the revolutionaries against the British rule?
Answer:

Revolutionaries thought that we can not achieve freedom merely through peaceful movements. They Want freedom from British Rule as early as possible therefore they showed self sacrifice to create the feelings of bravery and patriotism among the Indian youths to embrace struggle for Swaraj. Initially the revolutionaries could not chalk out their plans and programmes but later on the outlay of programmes came into existence. They adopted the following methods: Methods used by Revolutionaries:

The revolutionaries used violent methods. They used to organize themselves into small secret societies and give training to their members in making bombs and firearms. They tried to get anus from other countries and also planned their activities from there. The revolutionaries were brave and fearless and worked with full determination and mad9 sacrifices. Instead of uniting the common people for the national cause, they made individuals their targets. By their daring activities, they were a great source of inspiration to the Indian people. Question 3.
Write notes on:
Azad Hind Fuaz
Chandra Shekher Azad
Answer:

1.Azad Hind Fuaz:
At the initiative of Rashbehari Bose, Captain Mohan Singh (one of the Indian soldiers taken prisoner by Japanese) formed the Azad Hind Fuaz. Subhash Chandra Bose instilled new energy into Azad Hind Fuaz and became famous by the name of Netaji. In the capacity of leader of Azad Hind Fuaz he formed temporary India Govt, in Singapore on
October 23 and took vow to shed last drop of blood for the freedom of the country. In 1944 Azad Hind Fauz was successful in moving up to the eastern border of India. In 1944 he hoisted Indian flag in Kohima. And then seized Imphal but due to paucity of ration and excess rains he had to retreat from there. Netaji gave the slogan "Give me blood and I will give you freedom". In 1944 the position of Japan in world politics had become very weak. So the Azad Hind Fauz began to disintegrate.
2. Chandra Shekher Azad:
Chandra Shekhar Azad was born at Bhavra village in Jhabua district in Madhya Pradesh. He embraced non-cooperation movement at the tender age of 14. When he was arrested he told his name was Azad. His role in Kakori conspiracy, Saunder's killing and bombing at the assembly was notable. Finally surrounded by British police at the Alfred park in Allahabad, he shot himself dead. He paid his life for the freedom of India. He will be remembered for his great sacrifice for his motherland.