Courses after 12th: Science is a most sought-after stream for the students, as it opens all-important fields including medical and engineering. Mainly students opt for the science stream as they want to keep their all options open.
Important Courses Details:
Top 10 popular courses in India
Management MBA/BBA.
Engineering B.Tech and B.Arch, M.Tech, ME, BE.
Computer Application-BCA/MCA.
Designing – Fashion/Interior/Web.
Mass-communication/Journalism BJMC.
Hospitality (Hotel) – Hotel Management.
Medical-BDS and MBBS.
Finance -B.Com/CA.
Courses and career options after 12th Science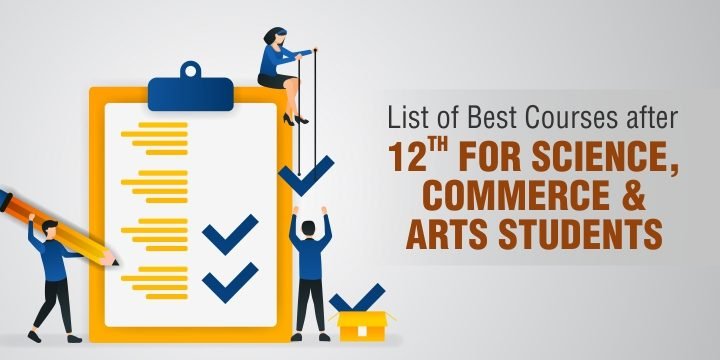 In this article we will take a look at some of the most popular course and career options you could opt for after Science in 10+2.
It is being noticed that many students, after doing their twelfth with science stream, make their career where a science background was not the primary criteria. Many candidates, for further studies, chose other subjects, which mainly don't require science in 12th class. You can find many lawyers who have done their LLB after doing graduation in science, similarly CAs, MBAs, Artists, writers to name a few professions.
Therefore, it is advised to the candidates that they must take an informed decision while making the choice of subjects at the undergraduate level as per their choice and interest. Because choosing subjects at UG level will decide your career.
What are the benefits of choosing science stream
You have all options open to choose from
You can study pure science or applied science at postgraduate level
Many jobs are reserved only for science background candidates (at 10+2 level) like Commercial Pilot, CDS, NDA etc.
Eligible for all science and non-science career options
List of the most Popular Science Courses after 12th Science
MBBS/BDS/BAMS/BEMS/Homeopathy/Unani
B.E./B.Tech/B.Arch
BCA
BSc
BSc (IT & Software)
B.Sc (Nursing)
Bachelor of Pharmacy (BPharma)
B.Sc (Hons)
B.Sc Anthropology
B.Sc Occupational Therapy
B.Sc Physiotherapy
B.Sc Computer Science (H)
B.Sc Electronics (H)
B.Sc Economics
B.Sc Zoology/Botany
Biochemistry
B.Sc Microbiology
B.Sc. (H) Biomedical Science
Biotechnology
B.Sc. Chemistry (H)
10 Courses after 12th Commerce without Maths
Commerce is one of the most sought after streams in higher secondary classes. This stream opens way to wide range options of courses at graduation level, thus paves way to your dream career.
Most students want to pursue graduation in Commerce, but do not want Maths as their subject. To help you out, here are 10 Commerce courses without Maths, you can consider after 12th.
B.COM (Bachelor of Commerce)
Bachelor of Commerce is the one of most sought after graduation courses in India. This 3 year long academic course has been designed to equip students with a wide range of managerial skills. You can pursue Maths without Maths. There are numerous B.Com. specialisation programs available in India.
Bachelor in Law
Pursuing a course that is a combination of law and commerce can help you grow your career in various fields. There are various integrated law courses available in India such as B.Com. LLB, BBA LLB, BA LLB etc.
BBA (Bachelor of Business Administration)
Bachelor of Business Administration is a three year long Bachelor's Degree program. This course helps students to learn industrial and management skills. BBA also offers numerous specialised programmes.
Accountancy Programs
If you are interested in the accountancy sector, you can pursue accountancy programmes such as CA (Chartered Accountant) and CMA (Certified Management Accountant). Mathematics is not mandatory for these courses.
Bachelor of Management Studies
Bachelor of Management Studies (BMS) is a three year long management course. The course is for candidates who want to pursue their career in the management sector. This course helps students to develop their management skills.
Company Secretary
Company Secretary course is a corporate professional course. This course offers a lucrative career in companies, MNCs and businesses with high income. This course also does not have maths as a requirement.
Hotel Management Courses
Bachelor of Hotel Management is a three year long employment-oriented course. This course provides independent knowledge about the hotel management sector. This course also offers various specialisations Bachelor of Hospitality and Catering Technology, Bachelor of Food and Beverages Production, BBA in Hotel Management, Bachelor of Catering Management, BA in Culinary Arts, and BA in Hotel Management.
Travel and Tourism
Travel and Tourism is also one course which students can pursue without mathematics. This course is more focused on employment, thus provides industry exposure while pursuing the course. Students can opt courses such as BBA in Travel and Tourism Management, Bachelor of Travel and Hospitality Management and BA in Travel and Tourism if they want pursue their career in travel and tourism.
Bachelor of Foreign Trade
If you are someone who wants to explore a career in the foreign trade sector, then Bachelor of Foreign Trade would be an excellent choice. This is a three year long graduation programme which focuses on logistics, import, export, supply chain management and law policy.
Event Management
Event Management is one of the courses which offer immense career opportunities. Most of the event management courses are three year long programmes. You can choose courses such as BBA in Event Management, Bachelor of Event Management, and BA in Event Management to pursue your career in event management.
BCom, BBA, BMS, or CS? What's the best career option after Class 12th for Commerce students
Career After 12th Commerce: Are you a Commerce stream student? Are you confused about your career? Here you are at the right destination to get all the answers to your questions regarding the best career option for the Commerce students after Class 12.
Are you a Commerce stream student? Are you confused about your career? Here you are at the right destination to get all the answers to your questions regarding the best career option for the Commerce students after Class 12.
Selecting a career option is the most difficult and challenging task for those who are not sure of their career options. Thus, having a proper understanding of the field is essential to avoid the actual struggle behind it.
It is often seen that the Commerce students are more confused in choosing the right career path due to plenty of courses available. Hence, it is crucial to choose a career wisely according to the scope of the course and at the same time considering your level of interest to pursue it.
Having Commerce in Class 12 give you a benefit over the Art students to choose your career from a wide range of courses.Here you will find the various options in detail available for the Commerce students having with or without Maths in Class 12.
Get Premium Accounts For Free
We own a telegram channel & you must join us there because we are updating daily working Premium Account, Cookies, and the latest version of pro apks.
| Commerce with Maths | Commerce without Maths |
| --- | --- |
| EnglishAccountancyBusiness StudiesEconomicsMathematics | EnglishAccountancyBusiness StudiesEconomicsComputerScience/Polity/Hindi/Sociology |
The courses offered for Commerce students demands a 10+2 certificate in any stream. The most important criteria to be known is the cut offs released by the colleges to admit the students under these courses. Following are the undergraduate courses offered to Commerce students:
Top Courses offered after Class 12 Commerce
B.Com in Accounting and Commerce
BBA LLB
BBA/BMS
BCA (IT and Software)
Chartered Accountancy (CA)
Company Secretary (CS)
Cost and Management Accountancy (CWA)
Other Courses
Bachelor of Economics
Certified Financial Planner (CFP)
Journalism and Mass Communication
Hotel Management Courses
Bachelor of Statistics
Diploma in Digital Marketing
At last, we would suggest you know life after these courses to select the best opportunity for you.
Ncert Solution
Reference Book Solutions