Computer Courses: Students must be cautious while choosing a career. With limited career opportunities, unemployment and competition among young people have increased. Information Technology (IT) is a tremendous growing sector that has gained momentum over the last few years. In today's world, it is a must to hold some knowledge about computer-related information.
India has gained an overwhelming pace in the field of Information Technology. The IT sector has created maximum job opportunities in the area of computer applications. A student need not master computer application through engineering, Graduation, or Post Graduation. A student can get a job opportunity with a credential or short term or certificate courses in computer applications.
India makes effective use of the internet and computers, and the opportunities are growing at an increasing rate each year. Computer application courses play a vital role and focus on skill development and job orientation.
In this article, I will introduce you to some of the best computer courses that provide adequate career opportunities. You can read through the material and select the classes that fall under your interest.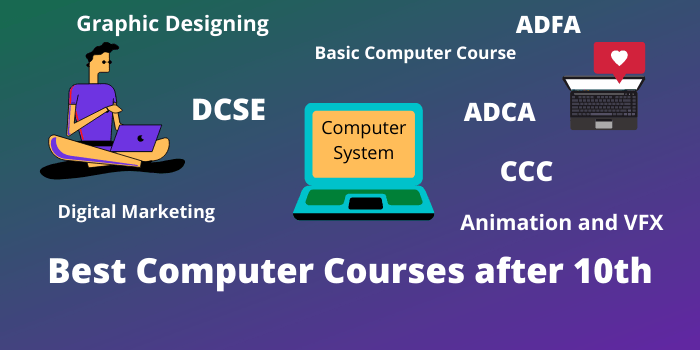 List of Computer Courses
Here are a few computer courses that will aid your growth in the IT sector.
VFX and Animation Courses
A course pursued in VFX and Animation enhances your skill in 3D innovation, illustrations, and visual effects. This field has expanded massively and has led to a change in many industries.
Benefits: While VFX benefits skills in Special effects for TV, Films, Digital media, Ads, TV programs, games, etc., Animation holds importance in rotoscope, character animation, modeling, and digital sculpting.
Fee: The Fee structure for this course depends on the type of animation and VFX section you chose and the duration of the course. The Fee structure for each varies from one institution to another. However, the Fee can range between INR 1 lakhs to 20 lakhs.
Institutions: Several private institutions offer extensive courses in VFX and Animation. However, the best of all is the Arena Multimedia.
Career Opportunities: VFX and Animation provides various opportunities that offer an excellent salary package. The possibilities for VFX and Animation students are Character animators, Motion-graphic artists, Match-moving artists, roto-artists, Texture artists, Pre-vis artists, 3D Modellers, compositors, Storyboard artists, Lighting artists, and Rigging artists.
USEFUL LINKS
Web Designing Courses
Web Designing is a course that open door of opportunities for independent individuals. This course manages multiple components required for keeping and building a webpage. It offers the learning of helpful coding dialects such as JavaScript, PHP, HTML, etc.
Benefits: Web Designing holds multiple benefits such as Fast-pact low-cost Mobile development, High-conversion rates, Fast webpages, Low maintenance needs, Low bounce rates, Higher mobile traffic, Improved SEO, Improved Online and Offline experiences, and Easier Analytical Reporting.
Fee: The Fee structure for Web Designing depends on the duration of the course. The fee structure for Web Designing varies from one institute to another. However, the Fee Structure is about INR 50,000 to 15 Lakhs.
Institution: Numerous private institutes offers courses in Web Designing. The notable institute, among others, is the Arena group of institutes.
Career Opportunities: Web Designings holds numerous career opportunities. The starting salary offers for Web Designers after the successful completion of the course is around 2 to 6 Lakhs per annum. A student of Web Designing gets opportunities as a Multimedia specialist, Seo specialist, Applications developer, UX designer, Web designer and developer, Web Content manager, etc.
Software and Programming Languages Courses
Software and Programming languages help an individual to develop programs. To better oneself, one must know programming languages such as Java C++, Python, etc. This is an excellent course that seeks great demand in the IT sector.
Benefits: This course provides simple editing and the creation of text editors. It adds interactive and dynamics to the webpages. It offers better and faster programming or coding sections and helps in better performance of complex tasks.
Fee: The Fee Structure for Software and Programming Languages depend on the language chosen and the duration of the level of the course. However, the fee structure ranges from INR 2000 to 50,000.
Institutions: The Best Institution for software and language programming courses in India is NIIT. They provide various programming languages and offer multiple short and long-term courses. They have numerous centers in different parts of the country and have excellent placement opportunities.
Career Opportunities: Software and Language Programming offers vast career opportunities. The starting salary for this course is around 15,000 to 1 lakh per month, anywhere.
This course offers careers as Software engineers for electronic product manufacturing companies or computer systems design firms. It also provides opportunities in application development offices, software publishing firms.
Hardware and Network Courses
Most Hardware and Network-based computer courses get a lot of publicity through Ads in TV and Newspapers, as a reassurance for a reliable job career. As promised in their Ads, these courses from a validated institution guarantee job opportunities.
Benefits: Hardware and Networking provide fast-pacing technology in the field of computer application. Numerous industries offer different techniques that increase and improve their products through low-cost maintenance, which is achieved through this course.
Fee: The Hardware and Networking courses offer a Fee structure that depends on the duration of the course. However, the Fee structure ranges between INR 30,000 to 1.2 lakhs.
Institutions: The most notable institution for hardware and Networking course is Jenkins. This institution offers an array of long and short-term courses and has an excellent placement record.
Career Opportunities: In India, a fresher from this course is offered a salary package of 3 or 3.5 lacs per annum. A graduate from this course gets an opportunity in Information Technology (IT) sector, call centers, software companies, system design companies, or even in banks, hospitals, schools, organizations, etc.
Reference Book Solutions
Tally Courses
A tally is a book-programming software that provides effective utilization of count. Tally holds trust by the Government and other multiple companies to move and store budgets.
Benefits: Tally holds many benefits such as smart budget maintenance, remote and global access to data, support of multiple languages, Data security and reliability, simple tax return fillings, audit tool, and easy payroll.
Fee: The Fee structure for Tally depends on the duration of the course. However, the Fee structure ranges between INR 3,000 to 8,000.
Institutions: Tally software holds grave importance to master any latest software versions. Many private institutions offer Tally courses, but the most recommended is from NIIT. They offer credential courses in Finance and Marketing and Have been updated with the latest Tally. ERP 9 software.
Career Opportunities: The starting salary offered for any Tally-related courses is around 1.4 to 2 lakhs per annum. After you pursue any course in Tally, you become eligible to work as Audit Executive, Admin Executive, Account Executive or Manager, Senior Accountant, and Financial Analyst.
See More:
Cybersecurity Courses
The present-day activities provide online or web assignments such as shopping, covering tabs, banking, etc. As it holds enormous advantages, it also leads to security breaches and dangers on the internet. The present world sees multiplying digital violations.
Benefits: Cybersecurity courses have a high demand and have unlimited potential for growth. It has a positive impact and boosts the daily advancements in technology. It helps in the learning of new methods and skills to aids to outwit cybercriminals.
Fee: The Fee structure for Cybersec depending on the type of cybersecurity-related work and the duration of the course. However, the Fee structure ranges between INR 30,000 to 80,000.
Career Opportunities: The starting salary for a graduate from any Cybersecurity course is offered around 10 to 15 lakhs per annum. This course provides job opportunities as a Cybersecurity analyst, Chief Information Security Officer (CISO), Network Engineer, and Cyber Security Manager.
These are a few courses that you must pursue to get a secure job opportunity. Information Technology has revolutionized the world and has changed our way of living. Through this article, make use of the opportunity to progress in life.
Get Premium Accounts For Free

We own a telegram channel & you must join us there because we are updating daily working Premium Account, Cookies, and the latest version of pro apks.
FAQ's On Computer Courses
Question 1.
What is the scope of Animation and VFX?
Answer:
While Animation holds importance in rotoscope, character animation, modeling, and digital sculpting, VFX benefits skills in Special effects for TV, Films, Digital media, Ads, TV programs, games, etc.
Question 2.
What is the salary package for computer course graduates?
Answer:
The average salary package for computer course graduates ranges between INR 30,000 to INR 3,00,000.
Question 3.
Which is the best institution to study cybersecurity courses?
Answer:
Hindustan Institute of Technology and Science, Chennai, is one of the top universities to pursue Cybersecurity courses in India.
Question 4.
What are the career opportunities for Computer course graduates?
Answer:
A few well-paid career opportunities are Application analyst, Application developer, Cybersecurity analyst, Data analyst, Database administrator, Forensic computer analyst, Game designer, Games developer, etc.
Ncert Solution