Top Universities Offering Courses: Find a perfect university program using our course guides and learn all your requirements such as Specializations offered, Fee Structure, Career Prospects, etc.
Choose your subject of interest and join the corresponding course after knowing the entire details. To make it easy for you we have curated several Universities and the Courses Offered at UG, PG, and Doctorate Level.
We have compiled the most popular universities and the courses offered by them across the country. You can have a glimpse of courses offered by each of the universities and join the ones as per your interest. Simply tap on the universities available below and learn completely about them.
Read Also" Medical Courses | Eligibility Criteria, Benefits, Admission Process and Scope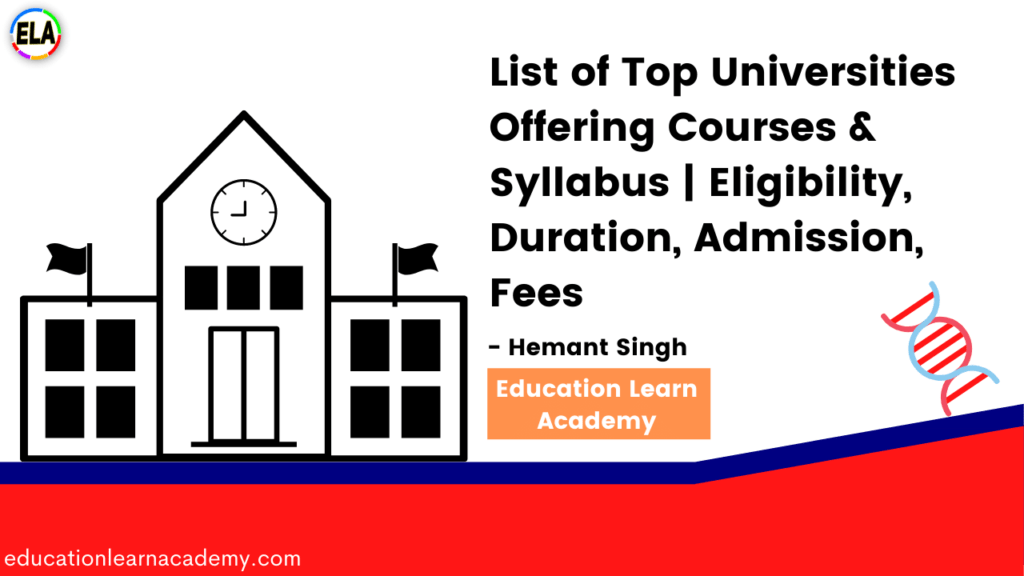 List of Popular Universities Courses & Syllabus
Have a glance at the Top Universities across the country to join your favorite courses. All you need to do is tap on the university you wish to know the related details and be aware of the Admission Process, Fee Structure, Duration, etc. For the sake of your convenience, we even jotted the
Syllabus of the courses so that you can be prepared for your exams. Clarify all your concerns and Pursue the respective course that suits you.
MCA Course Quick Facts
MCA full form is Masters of Computer Application.
The duration of the MCA program is for a period of 3 years for candidates belonging to different relevant streams. For BCA students the duration of the MCA course will be 2 years.
The MCA course is available in regular full time, online and Distance education mode.
Candidates can pursue the MCA Program in online mode through various platforms such as Alison, Coursera. Apart from that they can pursue the online course from Amity University or University of Mysore
The MCA Syllabus is spread across 4 semesters with the major subjects being Programming in C, Data and File Structures, Java Programming, etc
The top MCA colleges in India are NIT Trichy, Tiruchirappalli, University of Calcutta, VIT Vellore, University of Hyderabad and many more.
Working professionals who wish to pursue MCA for better job prospects can pursue the course in Distance Education mode.
The course can be pursued by individuals who have got 50% or more in their relevant undergraduate course.
The admission to the MCA program is done either on the basis of merit list or entrance examination. Most of the top colleges admit students on the basis of entrance examinations.
Apart from the MCA course the candidates often prefer to pursue BCA + MCA Integrated Course which allows them to complete their course at a single go without worrying for admission after graduation.
The top entrance examinations for this course are NIMCET, TANCET, MAH MCA, IPU CET.
The average course fees in India Ranges between INR 30,000- INR 200,000.
The candidates who want to study abroad can opt for several courses whose learning outcomes are similar to the MCA course. However, the top colleges in foreign countries charge between INR 10,00,000- INR 35,00,000 per annum.
Candidates after completion of the course are absorbed in the various job profiles in the IT industry such as Frontend Developers, Backend Developers, Web Designing, Networking Professionals, and many more.
Why Study MCA?
MCA is a two-years PG course designed for aspirants who want to excel in the world of technology. Master of Computer Applications is thriving with endless opportunities in both the public and private sectors.
The MCA job sector is booming with 2,05,000 new job opportunities every year, and it has a steady growth of 7.7% every year.
MCA candidates have unlimited job opportunities in a variety of industries/sectors as well as job roles.
After completing MCA, candidates will get a quick placement with a minimum salary of a minimum INR 4 LPA.
Promising MCA candidates can also expect to get hired by the world-best MNCs and IT companies such as Google, Microsoft, Amazon, etc., where they can expect a minimum salary of INR 13 LPA which will grow rapidly over time.
Who Should Study MCA?
The MCA program should be taken up by candidates who are interested in pursuing a career as a software developer. Most of the MCA graduates are involved in application and software development programs.
The MCA course should be taken up by candidates who want to work in the IT industry.
MCA programs can be pursued by working professionals in distance mode who wish to enhance their job prospects and career growth.
MCA Programs are also taken up by candidates who wish to pursue a career as an UI Developer.
Candidates who have completed their BCA program can take up the MCA course for better job roles
Similarly candidates from other relevant streams who want to change their career can take up the MCA program.
When to Study MCA?
Candidates can immediately start with the MCA course after completion of the BCA program. However, it is advisable to gather relevant experience after the completion of the BCA course before opting for post graduation
The MCA syllabus is quite vast and it consists of courseworks that includes both theoretical and practical classes. Thus the candidates should only take up the course if they have ample time to study properly.
The candidates should look to score well in the entrance exam because a degree from the top colleges such as NITs holds more value than the private institutions.
MCA Admission Process
The admission to the MCA courses in India are done mainly on the basis of entrance examination. However, some of the colleges offer admission on the basis of merit list created from the marks obtained at the graduation.
The following are some of the details of the admission process
MCA Course: Eligibility Criteria
Following are the Master of Computer Applications eligibility criteria to be fulfilled:
Graduation in computer applications, computer science, or related field with a minimum of 50% marks obtained at the UG level.
Mathematics as one of the subjects in Class 12 is compulsory.
This is just a basic overview of the eligibility criteria, it may be different in different colleges. In Delhi University, the minimum percentage required is 60% in the Bachelor of Computer Application
MCA Admission 2021
The admission to MCA courses usually takes place through university level entrance exams or state level entrance exams like IPU CET, MAH CET, etc.
Let us discuss the admission through entrance exam
The candidates are required to visit the website of the college, university or the entrance exam board and register themselves
The candidates are then required to put in their application details and upload the different documents as per the required size and format.
After uploading the candidates are required to pay the application fees and take out a receipt of the application form.
After that the candidates are required to take out the admit card and appear for the entrance examination.
After taking the entrance test, qualified students are called for a counseling session.
Counseling is conducted for seat allotment in various colleges affiliated with that university. Students are admitted after an allotment of seats in counseling.
Direct Admission
Direct admissions are done on the basis of merit in qualifying exams. Some institutes also provide admission on management quota, which is also one way of direct admission.
Management quota seats in every college are reserved. The fee is generally higher for these seats than general seats.
Direct Admission is offered by private colleges such as Amity University, LPU, Chandigarh University, etc. Students are just required to give a knowledge-based test on the day of their interview.
MCA Course Specializations
In the final year of the MCA course, students can opt for numerous MCA specializations as required. Some of the MCA specializations that are available across the Indian universities are:
Systems Management
Management Information Systems (MIS)
Systems Development
Systems Engineering
Networking
Internet
Application Software
Software Development
Troubleshooting
Hardware Technology
MCA Syllabus
The Master of Computer Application course duration is of three-year, which is divided into six semesters. MCA Syllabus includes classroom lectures, practical and project work. The project work is the most important part of the MCA course program.
The last semester of the Master of Computer Application's syllabus is completely dedicated to project work and specialization is also decided in this semester.
Following is the list of MCA course subjects taught in most of the universities in India, practical subjects and theory subjects both are included here
MCA Syllabus First Year
Semester 1
Semester 2
Computer Organisation & Architecture
Data Communication & Computer Networks
Business Systems and Application
Object-Oriented Programming in C++
Computer Programming with C
Information Systems Analysis & Design
Discrete Mathematical Structure
Database Management System I
Business English and Communication
Data Structures with C
Programming in C
Object-Oriented Programming lab (C++)
Micro Programming & Architecture Lab
Data structure lab
Business presentation and language lab
Database lab
MCA Syllabus Second Year
Semester 3
Semester 4
Unix and Shell Programming
Software Engineering & TQM
Business Management
Database Management System II
Operating Systems and Systems Software
Environment and Ecology
Intelligent Systems
Graphics and Multimedia
Management Accounting
Operation Research and Optimisation Techniques
Statistics and Numerical Techniques
Advanced Database lab
Unix lab
Software Project Management lab
Statistics and Numerical Analysis lab
Graphics & Multimedia Lab
MCA Syllabus Third Year
Semester 5
Semester 6
Values and Ethics of Profession
Major project and seminar
Elective 1 (System Administration and Linux or Windows Programming With VB)
–
Elective 2 ( Advanced Unix programming or Object Oriented Programming With Java )
–
Elective 3 (Distributed database management or Parallel Programming )
–
Elective 4 (Compiler Design or E-Commerce)
–
Minor project and seminar
–
Elective Lab
–
MCA Course Comparison
MCA is one of the most popular postgraduate courses offered in India. However, there are some courses, like MSc Computer Science, MTech in Computer Science, which have similar learning outcomes as that of the MCA program. The course comparison between MCA and the other program has been discussed below.
Read Also: Best Engineering Courses in India – Course Duration, Admission Process, Colleges List, Fees, Eligibility, Career Options, Salary
Admission Process for Universities
Most of the Universities will provide Admission to the Candidates on the basis of scores in Common Entrance Tests held nationally. However, Certain Universities will conduct their Own Entrance Exams to Provide Admission to Candidates.
University Course Duration
Course Duration for each specialization varies from one another. It may range from 1 yr to 5 yrs depending on the level of education be it UG, PG or Doctorate.
Eligibility Criteria for Universities
Eligibility Criteria for each university is different. You can know the eligibility criteria set by the particular university in the official portal or in the application form of the university. If you meet the eligibility set by the Universities then you will get Admission.
University Course Fee Structure
Fee Structure is dynamic for various courses. It entirely depends on the Course you choose and also the reputation of the university, infrastructure provided, etc. Before, joining a course make sure to cross-check the Fees of the Particular Course in the University Portal or enquire in the University.
Read Also: Best Science Courses in India after 12th – Duration, Admission, Eligibility, Fees, Career Options, Salary
FAQs on University Courses
1. Where do I find the Top Universities Course Syllabus?
You can find the Top Universities Course Syllabus on our page via quick links.
2. How to download University Course Syllabus?
All you need to do is simply click on the direct links available in order to access the University Course Syllabus.
3. Where do I get Courses offered by various Universities?
You can get the Courses offered by various Universities all in one place on our page. Tap on the University among the quick links available and know the courses in it.
Final Words
Hope, the information shared on our page regarding University Courses has enlightened you. For more information, feel free to reach us via comment box and we will get back to you. Stay in touch with our site to know more about Course Details in a matter of seconds.