Introduce yourself to Corporate Finance and Accounting and emphasize their applications to real-time situations with our Finance and Accounting Courses. Get acquainted with Finance and Accounting Courses List by referring to the further modules and join the ones as per your interest. Learn Admission Process, Eligibility Criteria, Colleges List, Fee Structure, Job Prospects, Salary Offered, etc.
All you need to do is tap on the quick links available in order to access the Finance & Accounting Courses at UG, PG, Doctorate Level. Clarify your concerns and make sure which course to opt from this article.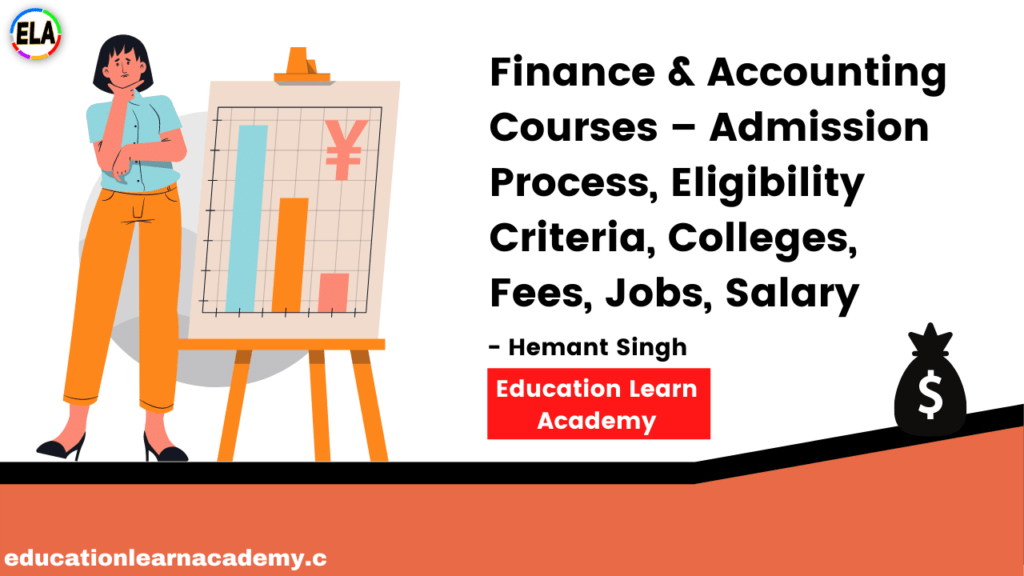 READ ALSO: List of Top Universities Offering Courses & Syllabus | Eligibility, Duration, Admission, Fees
List of Finance and Accounting Courses
Students can have a glance at the Courses available in Finance and Accounting and join the ones as per your interest. You just need to tap on the courses list provided below and get to know the entire details. Be aware of Eligibility Criteria, Admission Process, Fee Structure, Career Prospects, etc. Clarify all your concerns in the respective finance and accounting course and get acquainted with the details underlying.
Financial Analyst Course Details
Short Term Courses in Finance in India
CPA Course Details and Syllabus
BAF Course Details
CPA Course Details
CFP Course Details
CFA Course Details
ICWA Course Details
CA Course Details
CMA Course Details
FRM Course Details
ACCA Course Details
Finance and Accounting Admission Process
Admission Process for Finance & Accounting Courses is mainly on merit basis and through Entrance Exams held nationally. However, certain colleges will conduct their Own Entrance Tests to provide Admission for Students.
READ MORE: Best Science Courses in India after 12th – Duration, Admission, Eligibility, Fees, Career Options, Salary
Eligibility Criteria for Finance and Accounting
Candidates willing to pursue Graduation Finance & Accounting Courses need to complete 10+2 with a minimum aggregate. If you want to pursue a PG Course you need to complete your graduation with a minimum aggregate. For Doctorate Courses of Finance and Accounting, you need to finish your PG.
Top Colleges offering Finance & Accounting Courses
Below is the list of top most colleges or universities offering Finance and Accounting Courses. Check for the one that suits your requirement and join the respective college.
Amity University
Maharaja Sayajirao University of Baroda
GD Goenka University
Pondicherry University
NIIT, Rohtak
READ: Medical Courses | Eligibility Criteria, Benefits, Admission Process and Scope
Job Prospects after Finance and Accounting Courses
There are plenty of opportunities after pursuing finance and accounting courses. You can get into any of the following job roles and grow in your career.
Book-Keeping Clerk
Tax Accountant
Financial Advisors
Business Consultant
Chief Financial Officer
Finance Managers
Billing Clerk
Financial Assistant & Accountant
Certified Public Accountant
Salary Offered to Finance or Accounting Professional
Candidates who finished their Finance or Accounting Course can earn starting packages of 3 LPA. However, this is not a fixed salary and companies with high reputation can offer you more salaries depending on your skillset. Once, you gain seniority in your respective job you can earn more.
READ: Diploma Courses | List of Best Diploma Courses After 10th and 12th
FAQs on Finance and Accounting Courses
1. Is Finance and Accounting Courses easy to study?
Finance and Accounting Courses are not so hard and you can learn them quite easily if you put necessary efforts.
2. Is it Worth getting a Degree in Finance and Accounting?
Yes, it is worth getting a degree in Finance and Accounting as it gives you a plethora of career opportunities.
3. Where do I find the list of Finance and Accounting Courses?
You can find the list of Finance and Accounting Courses via quick links on our page.
read also: Management Courses After 12th – Admission Process, Eligibility, Duration, Fees, Jobs & Salary
Summary
We wish the data shared about Finance and Accounting Courses as far as my knowledge is concerned is true. If you have any queries regarding Course Details feel free to reach us and we will get back to you. Keep in touch with our site to avail the latest updates on various courses in the blink of an eye.