NCERT Solutions for Class 12 English in PDF form free to download updated for new academic session 2023, Intext & Chapter end questions, previous year of Flamingo (Prose & Poetry) & Vistas (Supplementary Reader).
NCERT Solutions for other subjects. Important questions and board questions will be modified frequently. NCERT books are also available to download. More Short Answers questions, Long Answers questions and Extract from poem are available with the downloads given in each chapter. English CBSE Sample papers and Previous years papers are available to download in PDF format.
NOTE (Disclaimer): This Post May Potentially Match Another Post On The Internet As It Has Been Sourced From An Ncert Book. However, The Content Inside The Post, Including The Pdf Solution, Is My Original Work. Therefore, There Is A Possibility Of Up To 50% Similarity With Other Sources. But I Will Provide A Direct Pdf Link, Which Is Unique To My Website Across The Internet. Nevertheless, It's Important To Emphasize The Sharing Of Knowledge Rather Than Just The Content Itself, As Finding Solutions Independently Is Vital, Regardless Of The Post's Originality. This Post Appears To Have Been Excerpted From An Ncert Book Solution.
NCERT Solutions For Class 12 English
NCERT Solutions for Class 12 English
When it comes to class X or XII which are your board classes, it becomes very important for you to understand what actually is desired in the answers else yours marks may get deducted.
All the CBSE-affiliated schools follow NCERT books and the question papers are also designed keeping in view the prescribed NCERT textbooks. Not solving NCERT books may result in catastrophic results which may shatter your aim in achieving your dreams.
As the marks of every subject is counted in your final percentage calculation. So, to safeguard you from all these troubles, Education Learn Academy comes up with an innovative solution of giving the students NCERT solutions class 12 English online and for free.
You can also Download Free NCERT Books for class 1st to 12th
NCERT Solutions for Class 12 English Free PDF Download
NCERT Solutions For Class 12 English FLAMINGO – PROSE & POETRY
Class 12 Vistas English NCERT Solutions Download PDF
Students can click on the subject wise links below. Refer to latest Vistas English NCERT Solutions for Class 12 below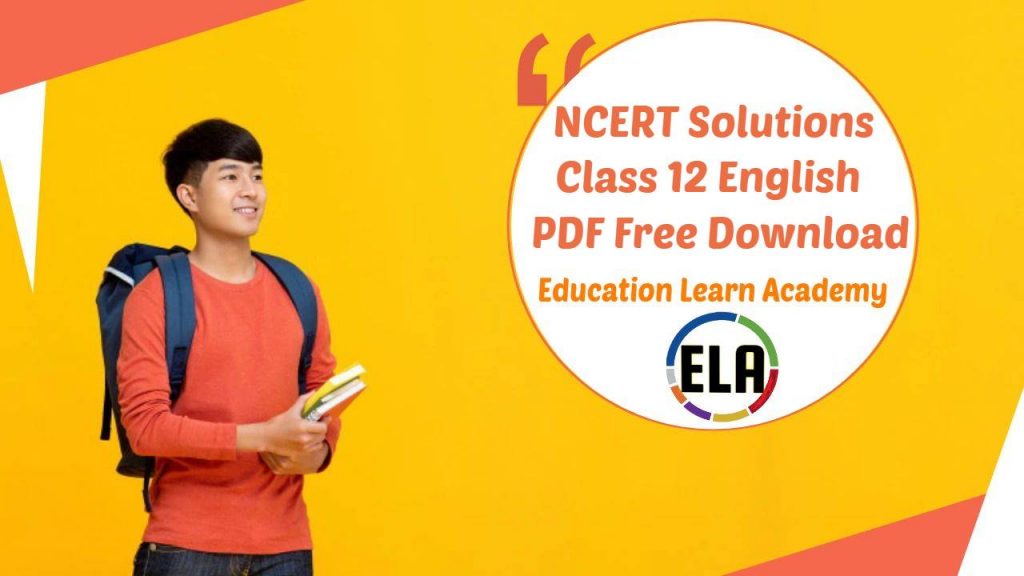 Class 12 English NCERT Textbook Solutions – Free PDF download
The reader 'Vistas' contains eight short stories that illustrate the beauty and panache of the English language. The authors whose works have been contained in the textbook, illustrate complex literature pieces. Most of the questions from the Class 12 English book, 'Vistas' that are featured in the CBSE Class 12 English exam, require students to have in-depth understand of the stories. One must understand the verbosity, vocabulary and tonality of the stories to answer the objective and long answer type questions in the exam.
The CBSE 12th English book, 'Flamingo' also comprises eight short proses from a list of writers who bring out the best of the English language. You will the works of authors Alphonse Dudet's and Selma Lagerlof's along with others. Also, there are six poems accompanying these proses in the Flamingo reader. These short stories and poems from the CBSE Class 12th English book produce a lot of intricate questions for you to answer in the
NCERT Sols for Class 12
NCERT Solutions for Class 12 Maths, Phy, Chem, Bio with study material and notes for revision are given below. You can also download contents for Business studies, P. E. and English in PDF.
Chapter wise NCERT Solutions for Class 12 English Flamingo Prose
Chapter 1 The Last Lesson
Chapter 2 Lost Spring
Chapter 3 Deep Water
Chapter 4 The Rattrap
Chapter 5 Indigo
Chapter 6 Poets and Pancakes
Chapter 7 The Interview
Chapter 8 Going Places
Chapter wise NCERT Solutions for Class 12 English Flamingo Poem
Chapter 1 My Mother at Sixty-six
Chapter 2 An Elementary School Classroom in a Slum
Chapter 3 Keeping Quiet
Chapter 4 A Thing of Beauty
Chapter 5 A Roadside Stand
Chapter 6 Aunt Jennifer's Tigers
Chapter wise NCERT Solutions for Class 12 English Vistas PDF Download
Chapter 1 The Third Level
Chapter 2 The Tiger King
Chapter 3 Journey to the end of the Earth
Chapter 4 The Enemy
Chapter 5 Should Wizard hit Mommy
Chapter 6 On the face of It
Chapter 7 Evans Tries an O-level
Chapter 8 Memories of Childhood
Download Complete NCERT Solutions PDF from class 6th to 12th.
All the solutions provided are in PDF and are designed as per the latest CBSE pattern and demand of the previous year question papers. The students can easily download these solutions from Education Learn Academy official website which asks nether for login or sign up.
NCERT solutions for class 12 English are divided into two sections. First is NCERT solutions class 12 Flamingo which covers solutions for eight chapters and six poem solutions. All the solutions are detailed and are up to mark. Studying these solutions means you will be clearing your English board exam with flying colors. The difficult chapters such as Deep waters, the rattrap and the interview, which require extra attention, are explained in a very easy manner keeping the levels set by the CBSE.
The solutions are provided chapter-wise and cover the entire syllabus in an easy to go manner. Even if you have failed to understand the chapter, just go through the answers provided in our pdf, all your queries will be sorted.
The second book NCERT solutions for class 12 English vistas cover the entire eight chapters aptly and as per the requirement. The length of very answer is proportional to the answer asked. The solutions are easy to understand and grasp. The chapters such as the third level, the tiger King, should wizard hit mommy, Evans tries an O-level etc. have been answered very diligently so that it suffices the thirst for a weak and an intelligent student simultaneously.
If none of the downloading link work, feel free to comment down below.