TS Grewal Solution: Students can refer to TS Grewal Solutions for Class 11 and 12 Accountancy provided below. These solutions have been developed based on the latest TS Grewal Book for the current academic year. Please click on the links below to download the solutions in PDF format
TS Grewal Solutions Class 11 PDF Download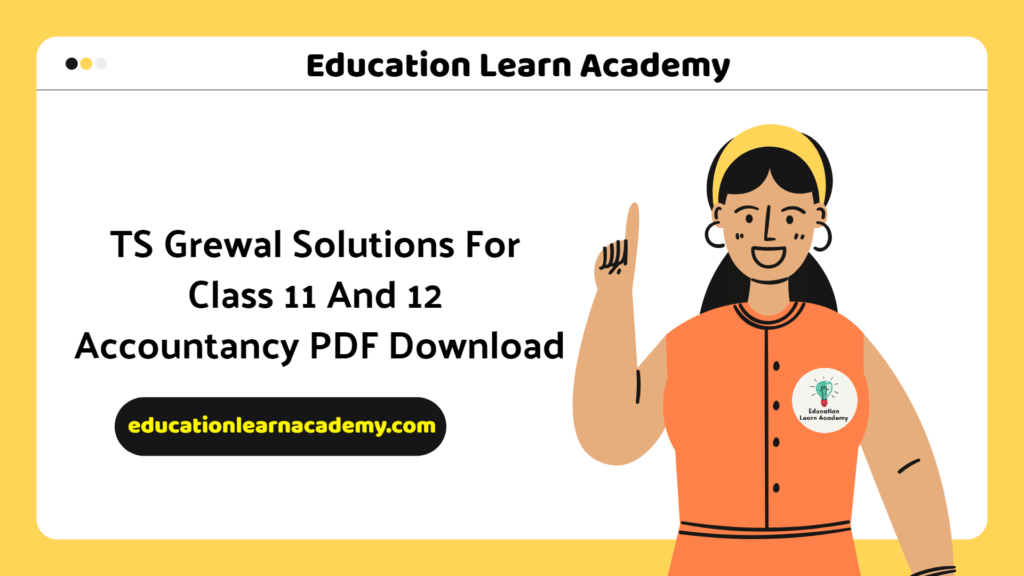 TS Grewal Solutions Class 12 PDF Download
TS Grewal Solutions Class 11 and 12
---
Accountancy is one of the focal points of the Class 11 and 12 commerce stream curriculum. The subject includes a bucket full of concepts, theories, and complex formulas. Preparing for Accountancy in Class 11 and 12 is no less than climbing a stiff mountain for the students.
This is primarily because Accountancy in the higher secondary classes stands on the roots of the practical application of learnings. Therefore, it is vital to have a firm grip on the conceptual part and know their implementation. Accountancy in Class 11 and 12 is deeply associated with the perfect blend of theoretical and conceptual knowledge. So, to score well in the Accountancy examination, the students must learn all the subject concepts.
When it comes to scoring commendable marks in Accountancy, the textbooks by a famous professor, TS Grewal, provides the students the ultimate guidance. Prof. TS Grewal is titled as the God in the field of commerce. Prof. TS Grewal has an unmatchable contribution to the commerce field through his unique textbooks. However, many students fail to match the level of excellence of the textbooks and get struck on various diplomatic concepts.
Here, TS Grewal Solutions Class 11 and 12 dives in as a great savior for the students. The solutions are highly detailed and 100% credible to dismantle the diplomatic problems of Accountancy.
Ncert Solution
Features of TS Grewal Solutions Class 11 and 12
---
TS Grewal Solutions Class 11 and 12 are recommended as the most precious study material to crack the examination. It is well-known for its precise and student-oriented content and well-structured presentation. The solutions level up the student's preparation to help them explore the world of Accountancy. Here are some eye-catchy features of the solutions –
Accountancy experts with years of academic experience have prepared the TS Grewal Solutions Class 11 and 12, which ensures quality and error-free solutions.
The solutions systematically arrange the chapters with the sole objective to develop a firm foundation for the students.
The solutions introduce excellent shortcuts and tricks to solve complex or time-consuming problems.
TS Grewal Solutions Class offers a large number of questions, including short, long, and value-based questions with quick explanations.
The solutions provide efficient illustrations with accounting formats, diagrams, and tables to make learning easier.
All the important topics and formulas are effectively highlighted in the solutions after keenly analyzing the previous year's questions.
The weightage of every topic as per the CBSE examination pattern is presented in the solutions.
Important Topics in Class 11 Accountancy
Here are the most crucial topics in Accountancy Class 11 –
Depreciation – It is one of the most challenging topics for most commerce students. However, with TS Grewal Solutions Class 11, depreciation is much easier. The solutions simplify the logic of the chapter to help the students grasp the topic much conveniently.
Financial Statements – Solving tons of problems from the TS Grewal Solutions on this topic help the students boost their overall percentage in the examination.
Journal Entry – Having good knowledge of this topic is not only essential for the students to score well in the Class 11 examination, but also gives them a push in the future. TS Grewal Solutions covers all types of questions on this topic to help the students get complete knowledge about the topic.
Reference Book Solutions
Important Topics in Class 12 Accountancy
Here are the most crucial topics in Accountancy Class 12 –
Accounting for Partnership Firms – Developing an excellent conceptual base in this topic is essential for the Class 12 students. The TS Grewal Solutions develop an excellent follow of learning within the students, with its high-quality content.
Debentures – This topic carries a significant weightage in the Class 12 board examination. Therefore, to get good marks in the exam, it's extremely important for the students to solve various questions from this topic.
If you ask any accountant or specifically any Chartered Accountant in India about which book they used to study Accountancy in Class 12. They will all give just one name which is Accountancy book by Mr TS Grewal. This TS Grewal accountancy book has been helping commerce students from ages from school level to graduation to post graduation courses. Mr TS Grewal has been a great inspiration to million of accountancy students who want to build their career in accountancy. His accountancy book for class 12 commerce students has been implemented in almost all CBSE schools in India.
It's a great book as all concepts which are important to build up a base for commerce accountancy students have been explained in a step by step manner in the book. Its really easy to understand and if you solve the examples and questions given at the end of each chapter. You can click on any of the link below to get answers for the latest book launched for class 12 students. The detailed solutions have been made as per the latest edition of book launched. Please refer to links below to access chapter wise solutions for TS Grewal Class 11 Accountancy book.
On this page you can access free TS Grewal Accountancy Class 12 Solutions for latest edition book for Volume 1, 2 and 3. All solutions have been prepared by Class 12 Accountancy teachers at education learn acaacademy
QUICK LINKS
The Accountancy book of TS Grewal for class 12 students have been really helpful as it has some great features like:
a) All chapters and critical topics have been explained in a simple manner
b) Students can refer to the explanations and also sample questions for each chapter which will help them to build stronger concepts
c) There are lot of flowcharts, diagrams and various other mind maps provided in the book which helps to learn accounting concepts faster.
d) At the end of each chapter, you will find long and short answer questions, multiple choice questions, past year questions and difficult questions too. These will be really helpful to test your understanding.
e) The book strictly follow CBSE Accountancy Syllabus for Class 12 to make sure students are able to properly study for class 12 board exams for Accountancy.
f) If you are preparing for Chartered Accountancy too, then also its advisable to go through this book to properly prepare for the exams.
Incase you are looking for solutions for TS Grewal Double Entry Book Keeping Class 12 Solutions all editions for Volume 1, 2 and 3. Our team of experts have provide solutions for all previous editions of TS Grewal Accountancy book for Class 12. You can click on the above links to download in pdf the solutions for all previous editions of the book.
Click on links below for Class 12 Accountancy to download solved sample papers, past year question papers with solutions, pdf worksheets, NCERT Books and solutions for Accountancy Class 11 based on syllabus and guidelines issued by CBSE and NCERT. The study material for Class 11 for Accountancy has been made by experienced teachers of leading schools in India is available for free download
TS Grewal offer the 3 volumes of Accountancy Book of Class 12.
Volume – 1 of TS Grewal book class 12 Accountancy consists of two units.
Not for Profit Organizations.
Partnership
Partnership Units are further divided into following chapters.
Accounting of Partnership Firms – Fundamentals.
Goodwill
Admission of Partner
Retirement/Death of Partner
Dissolution of Partner
Volume – II of TS Grewal Book Class 12 Accountancy Consists of one unit.
Accounting for Company
It is further divided into two chapters
RS Aggarwal Solution
Conclusion
TS Grewal Solutions Class 11 and 12 are the most helpful study resources for exam preparation. Students can freely access them through the Internet and level up their preparation with its excellent content. The chapter-wise solutions help the students to understand the terrifying topics in an effortless manner quickly. The quality content in the solutions makes it ideal for exam preparation as well as for daily homework. Therefore, all students must thoroughly read the TS Grewal Solutions to achieve high marks in the examination.