Vineet Khatri's Organic Chemistry Notes are available in this post. The notes are handwritten and are available in PDF format for download. He has covered all of the important Chemistry points and questions for classes 12 and 11.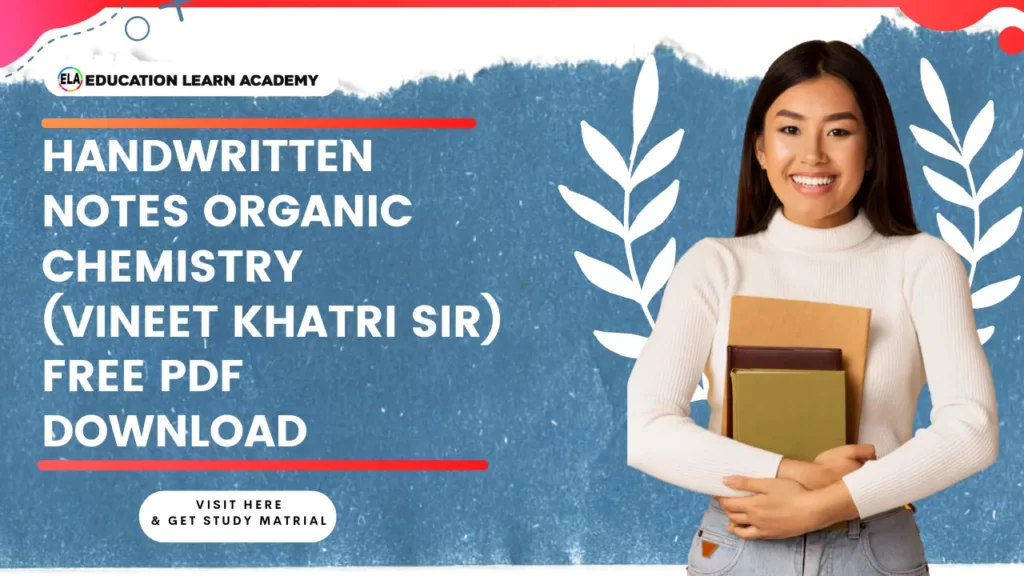 About Vineet Khatri Sir (Youtuber)
Did most of the schooling at Hisar in Haryana
Cleared IIT JEE in 2006
Completed B-Tech from IIT Roorkee in 2010
Due to my passion for teaching, I came into IIT JEE training
In the meantime, cleared IAS mains in 2013 in 1st attempt but didn't qualify in the interview.
Worked as a senior Faculty of chemistry at Vibrant academy, Kota for 6 years.
Taught more than 10,000 students over these years & enjoyed a lot.
Founded Any Time padhai academy in 2016 with the aim to give affordable & quality education to each student for IIT JEE.
Now, the ATP academy has more than 40 million views & 4 Lakh,40 Thousand students.
Worked at Bansal Classes, Kota as HOD chemistry in since 2017–19
Co-Founded Hangry's in Kota on the lines of Burger King, McD
Now Working to build an awesome learning platform for JEE & NEET Aspirants
Launched ATP STAR learning app for IIT JEE & NEET Aspirants – 20th Aug 2019
Download Handwritten Notes of Organic Chemistry
Part 1 – Click Here
Part 2 – Click Here
Handwritten Notes Organic Chemistry Vineet Khatri Sir PDF Download
---
Physical Chemistry Handwritten Notes by Vineet Khatri Sir Part 3
Physical Chemistry Handwritten Notes by Vineet Khatri Sir Part 2
Physical Chemistry Handwritten Notes by Vineet Khatri Sir Part 1
---
Vineet Khatri Yotube Video
---
Keywords:

Download Organic Chemistry Handwritten Notes

Organic Chemistry Notes for JEE Main and Advanced

Organic Chemistry Handwritten Notes for NEET

Vineet Khatri Sir Handwritten Notes
Hope you like these handwritten notes. Please share them with your friends! Do let us know if any chapter is missing or link not working in the comments below.
Friend ,organic chemistry is a subject in itself and it demands both understanding and memorisation .Prima facie it seems that it is an ocean of facts to be mugged up ,but reality is not so.It can be learnt by adopting wise approach.
As far as jee is concern ,the approach to design the problems has been changed in recent years.Now more and more problems are being asked on the basis of understanding rather than facts .Jee's objective is not to test memory capacity of students but understanding capacity .I would like to suggest golden rules to score high in Organic chemistry .
Are these notes really helpful?
Definitely. As we know Vineet Khatri is a famous Youtuber and has been a teacher at for many years. Hence, he holds a lot of experience in the field and we can fully trust him with his notes. Thousands of students are already studying from his notes. They are perfect for revising the syllabus of chemistry.
BOOK RECOMMENDATION :
Physical
FOR THEORY
*NCERT
*OP TONDON
FOR PRATICE
*NARENDRA AVASTHI
*ALLEN PRATICE PROBLEMS
*PW ATKINS(FOR ADVANCE)
Organic
FOR THEORY
*OP TONDON
*NCERT SOLOMON(JEE EDITION)
FOR PRATICE
*MS CHOUHAN
*HIMANSHU PANDEY
*RC MUKHERJEE
Inorganic
FOR THEORY
NCERT
JD LEE (JEE EDITION for ADVANCE)
FOR PRATICE
VK JAISWAL
CENGAGE(VISHAL JOSHI)
How to study from these Organic Chemistry Notes?
Simply, tap on the notes links part 1 and part 2 (all links are provided above) and you will be directed to the google drive link where you can read as well as download the pdf file.
Study and revise thoroughly!