Scribd Premium Accounts : If you are searching for the Scribd Premium Accounts Free, then here in this article you will get Scribd Premium Accounts and Passwords for free.
Scribd is one of the premier and most popular digital reading subscriptions. Members are allowed to listen to and read various magazines, e-books, audiobooks, and many more on any compatible device and at any time.
It is much easier for the readers or visitors to create their best selves, discover new passions, and stay informed. The impressive library includes various articles, audiobooks, award-winning e-books, numerous bestselling from leading Newspapers and magazines. Scribd is another best reading subscription for you.
Note: The modern solution of Scribd will allow reading lovers to access numerous music, magazines, audiobooks, and e-books.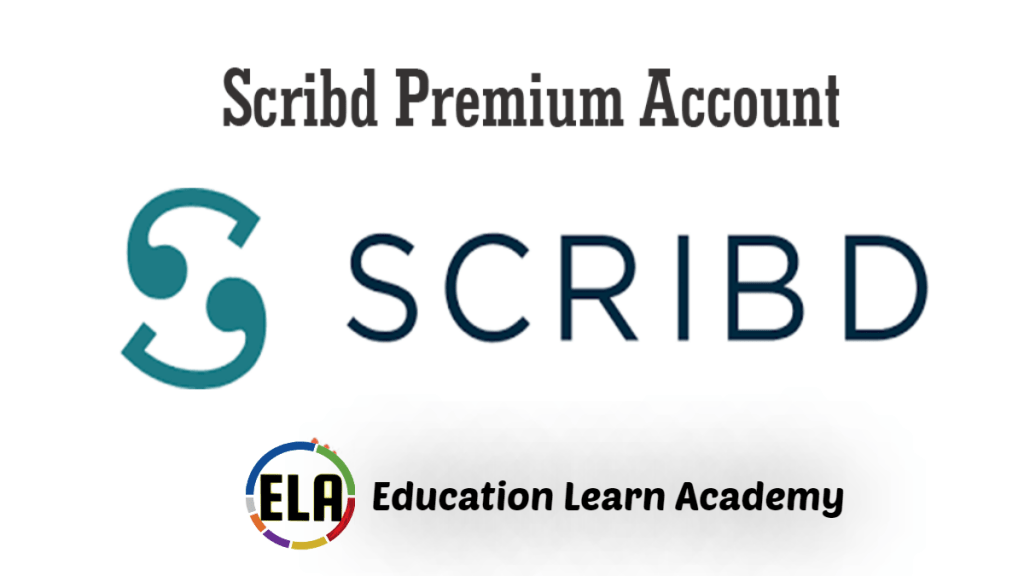 The Scribd's best part could be its personal library for carrying in your pant pocket. You can access your Scribd account on your Fire devices, Android, iPad, or iPhone devices. It is also possible to access various titles as per your request through a web browser. You can also create your preferred library, save your bookmark titles, create collections, and favorites.
About Scribd
The Scribd Company was developed and founded by Jared Friedman & Trip Adler. Moreover, Trip was already named for his Tech Pioneers, 35 under 35, and Forbes 30 under 30. The employees are located across 20 countries worldwide working hard to make the reading live for various paying subscribers in the 21st century.
Note: Here in this article, I am not providing any free Scribd account generators, I am just providing Free Scribd Accounts and Passwords for the premium subscription.
Scribd, the unlimited reading plan or subscription will offer multiple accesses to documents, magazine & news articles, audiobooks, the best books, and many more. The e-book subscription service is also available for tablets, iOS, and Android smartphones along with personal computers, Nook, and Kindle Fire. In 2007, the Scribd company's headquarter is located in the USA (California, San Francisco).
Scribd Key Features
Find below the list of features offered by Scribd for your reference:
You can find the most popular periodicals and articles such as New York Magazine, Men's Health, Harper's Bazaar, Esquire, Entertainment Weekly, Time Magazine, and Bloomberg Businessweek for Scribd users.
Scribd will allow visitors to browse & locate through mobile applications or websites to download or read their favorite files.
If you are subscribed for the Scribd Premium membership than you are allowed unlimited access to download, listen, and to read.
Scribd is available worldwide and able to access it using the application or through a computer at any time. Some of the countries across the globe had already blocked its service by the local government.
If you are interested to utilize the service even after completing the free trial period then you can subscribe for the Scribd premium subscription at $8.99 per month.
The premium subscription will assist you to get unlimited & sustainable access to various titles or articles to read even in offline mode, without using internet access.
Scribd offers an unlimited reading policy over the web to make it the best offers within the e-book reading world.
The premium subscription at $8.99 will reload its subscription automatically (auto-enabled feature) before it is canceled.
The Scribd app will allow syncing with your devices and able to access offline articles for your convenience at any time and anywhere.
Users are provided with unlimited access for the available list of audiobooks and the best e-books selected by the famous editors personally.
You can also access the largest e-document library which contains the scientific studies, different dissertations, official government reports, and many more.
Visitors are provided with 24/7 access for viewing the audiobooks and e-books along with various bestsellers & different literature winning prizes with modern popular genres.
Free Scribd Premium Accounts:
⚠️ If You don't get the accounts it doesn't mean that it's fake it means the accounts was claimed by another user so be fast to claim ❤️❤️
✔️Many People are Online,
They Claim Accounts + change the password, So fast that you all might lose Accounts😅
So you need to Be Faster Than The Others✔️
🔰 X10 Scribd Premium 100% Working Accounts 🔰
[email protected]:dgtl1234 | Username = irfan5shahmiri | Plan = Month Pass | Status = active | Payment Method = credit card
[email protected]:Nick1Ryan2 | Username = jhowlett120 | Plan = Month Pass | Status = active | Payment Method = credit card
[email protected]:Abbydog01 | Username = nathan1strasser | Plan = Month Pass | Status = active | Payment Method = credit card
[email protected]:Honkis1! | Username = peter1dougan | Plan = Month Pass | Status = active | Payment Method = credit card
[email protected]:1744suek | Username = sue1hawkins1kaligian | Plan = Month Pass | Status = active | Payment Method = credit card
[email protected]:gandalf1 | Username = michael7hienzsch7 | Plan = Month Pass | Status = active | Payment Method = credit card
[email protected]:Morrowmn3189 | Username = marianne5morrow5 | Plan = Month Pass | Status = active | Payment Method = apple
How to get Scribd free subscription?
The Scribd trial subscription will allow the users to utilize the platform similar to a paid subscriber. The free trial subscription is used to download your required articles or documents by listening to various unlimited audiobooks and a maximum of 3 books/month. It is important to register or sign-up for a free trial account for 30 days to start through the iOS or Android app or through the website. Recently, the Samsung Company is tied with Scribd and offering an extended trial period for 2 months instead of a month.
Important Note: My dear users Don't change Scribd User Name and Passwords, why because If you change the Scribd Login credentials which provided by me, then other users may face Invalid user name and password issues
You can't find any other methods as of now to utilize the free Scribd 2-month trial period. Samsung will take care of another 1-month subscription cost if you own any one of the Samsung Galaxy devices. If your family members, relatives, or friends having the Samsung Galaxy mobile then you can seek help from them for accessing the documents, audiobooks, or favorite books in a few taps.
>> Step 1) Access the Galaxy Apps on your Samsung Galaxy mobile device.
>> Step 2) Browse and locate the Scribd app.
>> Step 3) Install the Scribd app for your Samsung Galaxy device.
>> Step 4) Download the app to your device.
>> Step 5) Once it is done, it is possible to utilize the 60 days or 2 months free trial period.
After registration or account creation, you can access your favorite documents, books for free.
How to get Scribd Premium Subscription with payment?
It is like a ticket to utilize the Scribd membership to access the world of books. You should pay USD $8.99 including tax per month to get the entire access to its library of reader favorites, obscure indie titles, award winners, and bestsellers. Scribd also includes magazines, audiobooks, and e-books. It is better to gain special collections and personalized recommendations from the editors to identify the best books.
The Scribd is armed on the web, tablet, and mobile phone; it is not possible to go without reading a good book. Scribd app will showcase the documents, articles, sheet music, news, magazines, audiobooks, e-books, and many more. It is a good chance to utilize it with your Scribd Premium subscription.
Also Read: How To Unblur Course Hero Documents for Free
Scribd Premium Accounts For Free Scribd Free
This is all you need to know about Scribd's 30-day free unlimited access 2023 and how to redeem this service on your device. So we are requested all of our readers please signup to their 30 days access and download your notes and audiobooks at the earliest of the offer ends.
The moto of this initiative by Scribd is to help people engage their minds in reading their favorite books and magazines from famous authors and writers while fighting against COVID-19 by staying indoors.
iTech Hacks humbly requests all its readers to stay healthy and to remain indoors till this spread of COVID-19 virus is contained. Also, please maintain proper hygiene of yourself and your surroundings. If you have any queries, then please let us know about it in the comments section below.
Scribd Username & Passwords
If you don't like the above method and looking for 100% free method then I have good news for you. I have a list of Scribd working accounts then you can use.
I request you do not change the password. While writing this article all accounts are working. If you found one or two accounts stopped working then keep trying until you don't find a working account.
We try to update the list daily so our users only get working accounts.
Let's be honest with you for a second. There are multiple reasons that no blogger can provide you list of working accounts. There are two reasons behind this.
His website will be suspended for sharing accounts (Happened with me)
We will lose money instead of making
Now either you can accept the truth or you can waste your time by trying fake accounts. This is the truth, the sooner you can understand more time you can save.
But don't get disappointed, I have another free method for you.
Torrent
Torrent is absolutely the best method when you want any digital asset for free. That's why torrent is ban in all major countries. In Tier 1 country the second you tried to access the torrent a fine will be sent to your address.
However, you can use torrent without letting your ISP know. You can do that using VPN. A VPN is a piece of software that will change your location.
VPNs are free however best VPNs are paid. By the way, accountbot also provides Premium VPN accounts at a cheap price. If you are looking for a free VPN then try Hotspot shield.
If you are not fully aware of torrent don't worry you don't need to know. You need the following things for torrent.
VPN
Torrent client like Utorrent
A device with an internet connection
Basically, we will turn on the VPN and then download torrent file of the digital asset that we are trying to download. A torrent file doesn't contain any content.
Before proceeding further make sure to download & install Utorrent client on your device. You will download the actual file through this software.
Anyways, once it is installed then connect your VPN. Once you VPN is connected restart your browser if you have connected when your browser was open.
Then search on google my IP or visit https://whatismyipaddress.com/ here location should be different from your actual location. If not then something went wrong.
Once the VPN is connected properly then visit any of the following websites.
thepiratebay.com
1337x.to
yts.mx
torrents.io
Basically, these sites are search engines of torrent files. Here search for the ebook or audiobook that you want to download. It will show you results.
Click on the result that matches your query. It will open a new page. On the new page, you need to click magnet URL link or symbol showing a magnetic link. It keeps changing from website to website. Here is thepiratebay magnet link URL.
It will utorrent or whatever torrent client you are using. Here it will show you all the files information and ask for the location where you want to save it.
Once you decide it then start downloading it. Unlike a normal internet, connection torrent works best when multiples people are downloading the file.
When you are downloading you are also helping other users to download who started after you. So make sure you quit the utorrent once the download is completed otherwise it will keep consuming data.
Scribd Mod APK
Today mostly users read through their smartphones. If you own an android phone then you can try a modified app to access the Scribd content for free. Some people reverse engineer the app's program and then modify it code to get desired results.
This app is only available for android users. For using this app, make sure you allow installation from an unknown source.
Free Scribd Premium Cookies Daily Update
Hello folks, Hemant SINGH brings you Scribd Free Premium Cookies 2023 – Free Scribd Premium Cookies Daily Update. Scribd is one of the newest additions to the Scribd mobile platform.
This innovative and unique offering allows customers to create their own Scribd content and share it with their friends on several different platforms like Facebook, Twitter, and StumbleUpon.
The Excellent Key Features of Scribd Highlighted
There are a lot of exciting features available on the online reader platform Scribd. I have plotted them for you in this article. You can read them here on the list below.
Here in this platform, you can read the most popular periodicals and articles including the Time Magazine, Bloomberg Businessweek, Men's health, New York Magazine, etc.
Scribd allows its users to browse through a mobile application and the website to view or download contents available on the platform.
Scribd premium membership allows users with a paid plan to read, listen or download unlimited contents from the platform.
Scribd is available worldwide, and users can access the platform through the mobile application and the official website. However, there are some countries that put on a block on this platform for some security-related issues.
If you are interested in taking their premium services, you can take a free trial first to taste the premium features of the platform. After the trial period ends, you can continue with a premium plan which you need to buy using your credit card.
The premium plan will help you to get access to the platform where you can have unlimited access to the contents available on the platform. You can easily download the required contents and view them even when you are offline.
This platform offers an unlimited reading policy over the web, that makes best out of the platform in terms of readership. Users can view the e-books and audiobooks anytime they want.
The premium Scribd subscription costs about $8.99 per month, and the plan subscription automatically renews before it is cancelled.
The Scribd app will allow synchronizing with users device and able to access offline articles for the user.
Users have unlimited access to the available audiobook in the platform. Now you can listen to unlimited audiobooks from Scribd with your premium subscription.
You can have access to the largest library of the e-documents of the platform and get whenever you require a document.
How To Get Free Trial of Scribd
Now you may have wanted to try the premium features of the platform. Scribd has so many amazing features to offer for its users. You can taste the premium using the free trial offer on Scribd.
I will guide you to get a free Premium trial access on Scribd, and you can try the premium resources of the platform for free.
Follow the steps that I have demonstrated for you to get a free trial on Scribd.
STEP 1: First of all, you need to create a free account on Scribd. Go to the official website of Scribd first.
STEP 2: Click on the Sign-up button you can find on the header of the website. Now you will be redirected to a new page where you will have to fill the sign-up form.
STEP 3: As you have reached the sign-up page, you need to fill-up the form with all of your valid information including your first name, last name, email id, etc. Do remember to choose a strong password by following the criteria of the site.
STEP 4: After filling the form using all your valid information, submit the form ad wait for a verification mail which will be sent to your provided email id.
STEP 5: Open your mail inbox and check for the verification mail. Open the mail and click on the link for verifying your account creation. Your mail and other data will be validated within a fraction of seconds, and your account will be created.
STEP 6: Now you can sign in to the account you have created on Scribd. Sign-in into the account and click on the option/ button "Try premium for free".
STEP 7: Now you will see a page opened in front of you asking for your payment details and billing address. Fill the form with your credit card number and other billing details. Remember, you need to put the valid card and address for availing of the free trial.
STEP 8: Submit the form after filling it and wait. Your free premium trial period of 30 days with immediate access will be activated within a couple of seconds.
Now you have the steps to avail the free premium trial from Scribd. You need to remember to cancel the subscription before the plan period expires; otherwise, you will be charged for the plan subscription.
You can use the steps with multiple email id's to get unlimited free trials from Scribd. Just have to keep in mind that you need to cancel the plan before it expires.
Scribd Alternatives
Calameo
Calameo is the most popular publishing platform for digital magazines, interactive publications, online catalogs, etc. It is a feature-rich platform for professional who wants to plan their publication in advance. The site features a massive range of magazines to read and share. All the magazines on this platform consist of several categories such as Fashion, Cooking, Sports, Cars, Video Games, and lots of others. Each one has its options to explore and read. Calameo is a comprehensive platform and comes with all the primary tools and features that are quite simple and easy to understand, even for beginners.
With the help of this solution, you can completely design your publication, add and remove images, videos, and text, insert internal and external links, and much more. The platform starts with very basic levels, and now it has millions of users around the world who can use it to publish their premium content or read new stunning content.
Hashdoc
Hashdoc is an online social library of professional documents where you can find, create, save, tag, download, and share documents and presentations that are most relevant to you. It is the fastest-growing community where you can easily find business documentation, templates, project deliverables, white papers, displays, and more, all rated and enhanced by being a like-minded community.
All documents and presentations on this platform consist of several categories, and each category has a document that you can easily choose, save, and share without any limitation. Unlike most of the leading document libraries, it also regularly updates with new presentations and documents to deliver a complete solution.
Slideshare
SlideShare is the most leading hosting service provider that offers professional content such as documents, presentations, infographics, etc. You can easily upload files privately or publicly in PDF, Word, and PowerPoint, or OpenDocument format through this application. It also supports multiple media content, such as images and videos, making it a comprehensive solution. SlideShare has a massive range of professional content that you can easily explore, read, download, and share.
There is also an online editor that helps you to modify your presentation, document, or other files. The site requires no registration to explore and read its content, but if you want to upload your content, you need to create an account with an email address and name, etc. After completing the registration process, you can easily enjoy all features without any limitations.
Issuu
Issuu is a free electronic publication solution that allows you to access more than 30 million publications. It will enable you to add your publication, whether you are just launching your first publication or give you have on it for years. It provides all the tools you need to get the audience you want. Issuu is a comprehensive solution that comes with all the vital tools, features, and services to deliver all solutions in one single platform. With this application's help, you can easily upload a PDF file of your publication and share it with the world.
It also allows you to see a complete analysis of your readers and pages, schedule, share links, and most importantly, it will enable you to sell digital access to your magazine, both single Issuu and subscriptions. It is also best for readers and allows you to access thousands of magazines, catalogs, and other related content that consists of a number of categories; each category has its magazines to read and share.
Joomag
Joomag is an all-in-one comprehensive Digital publishing platform that offers a suite of integrated solutions for every digital publishing, content marketing, corporate communications, and sales engagement needs. More than five million businesses around the world are already creating, distributing, tracking, and monetizing their content from the central platform that streamlines workflows and becomes more productive in the process.
The platform comes with all the leading tools and features that allow you to create interactive digital content in different formats and categories: catalogs, brochures, presentations, documents, reports, and all the other similar kinds of digital content. The most exciting fact about this digital publication platform is that it offers more than 300 free templates that consist of several options. Each one has its layout and color scheme and allows you to easily customize each one that saves a lot of time, and offers more stunning ideas.
Conclusion
Scribd will allow you to read the entire e-books just by subscribing for $9/month. Scribd app is easier and simply designed to fulfill all your requirements to read the e-books. The added advantage of Scribd will allow you to access various free documents. Overall, the Scribd app will deliver well-designed e-books.
Note: All accounts are working when Posted, please don't change passwords. If these accounts expired, then comment below, I will update the new list.
Scribd app's disadvantage for utilizing the book selection can be used by subscribing for one more dollar per month. This app is much easier to navigate and use like other applications. It is important to choose the book selection or design based on your preference.