The start of the year is the best time to think about new things to learn to broaden your knowledge and skill set.
But given the vast field of human resources, you may need help choosing the topics you should learn about this year.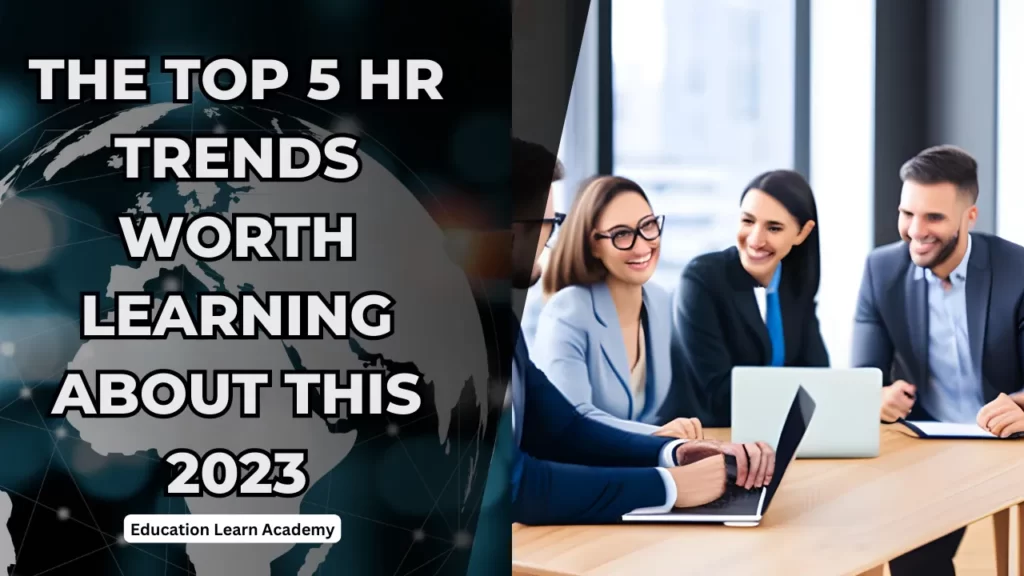 Fortunately, many popular HR courses cover the biggest trends expected to impact the industry this year.
When you sign up for a training program that covers the top HR trends of 2023, you can expand your knowledge of the latest principles, practices and developments in the industry worth knowing about, following and practicing.
Knowledge of these HR trends, plus the certificates you gain, can help you achieve your career advancement goals and boost your reputation as a professional in this field.
HR Trends Worth Learning About This 2023
Below are the top five trends you would do well to look for in the HR training courses you should take this year:
Better wellness programs
In light of the COVID-19 pandemic, wellness programs are not only nice to have; they are must-haves.
The pandemic affected all workers, including those who did not get the coronavirus. To maintain a productive and happy workplace, all organizations should have a plan to help workers stay physically and mentally fit.
As an HR professional, you have to know the latest trends and strategies that should be included in your company's wellness program. You also have to learn about the best benefits to provide to help employees maintain good health.
Since employee burnout is becoming more prevalent, this year, you would do well to know better ways to provide workers with the support they need.
This should include learning how to create and conduct surveys, research and workshops to help employees maintain good mental health.
You also need to know how to use the right resources to create and implement successful wellness programs.
Diversity, inclusion, and equity (DEI) focus
In the past years, many companies had implemented various DEI policies and strategies to nurture and attract multicultural teams. This trend will remain in 2023 and beyond.
If you specialize in recruitment, you have to know the importance of placing DEI at the core of your company's HR strategy, from recruitment to onboarding ,and how to do it correctly.
This includes learning how to use niche hiring platforms to ensure you are reaching out to underrepresented talent.
A good training course on DEI will also teach you how to create a strong culture of acceptance and belongingness that can lead to higher engagement and productivity in the workplace.
Implementation of hybrid work
The past two years showed that hybrid work, a flexible work setup supporting in-office, remote, and on-the-go workers, comes with several benefits that increase talent retention and attraction.
Because of this reason, organizations shouldn't rule out or remove this work model this year.
Companies can remain competitive by providing flexibility and greater structure to their organizational models. This can be done through better use of physical space, establishing new relevant metrics and solving related issues, including proximity bias.
Important meetings, for instance, will have to be managed in a fully hybrid way to allow everyone to participate on an equal footing, regardless of their physical location. The corporate culture itself may also need to be redefined.
A training course that can teach you up-to-date concepts and strategies for creating and implementing an effective hybrid setup in your organization. Whether it's allowing the staff to work from home once a week or letting them join meetings remotely, think about a solution that benefits both the employees and the company.
Boosting employee engagement
Employee burnout, lack of motivation and a desire for better work-life balance have led to an increase in quiet quitting, a phenomenon wherein workers only work up to the required or a specific number of hours doing clearly defined tasks.
Quiet quitters can pose problems to organizations since they can become disengaged with their jobs and unconcerned with the success of their company.
As an HR professional, the right training course can teach you techniques to help you identify what the workers want and create an employee value proposition that aligns with their wants and principles.
Additionally, you can learn about ways to ensure your performance management system can influence and drive employee behaviors by successfully linking company and individual goals, work performance and the offered rewards.
Using data and technology in HR processes
Learning about the best ways to use data and technology to expand and enhance your skills and help improve different processes and areas in your company is always a great way to boost your career and become a better HR professional.
Learning about the latest ways to track, analyze and use different types of data to recruit and manage personnel is crucial to help companies achieve their goals and stay competitive.
With companies leaning towards the use of a complete platform for HR management, you would also do well to take courses about using the latest tools or programs so that you know what they are and have an idea of how to use them.
You also have to keep your fingers on the pulse of various HR processes automation, including recruitment, onboarding and presence detection. Taking a course that covers them can help you prepare for these certainties.
Lastly, obtaining knowledge and skills about using other forms of technology, such as AI text-to-speech in training and tools for tracking employee progress, can help make you stand out as an HR professional as well.
If you want to start the year right, look for training courses that cover these trends that can help you grow as an HR professional and become a more valuable asset to your company.