How To Become A Loco Pilot In India: Have you ever dreamt of operating a train and handling the mechanical work of a train? Do you always wonder how the engine of a train works? Do you feel like you want to be the next loco pilot in India in the future? But to achieve your goal, you need knowledge about it. So here in this article, we have mentioned details about how to achieve your dream of becoming a loco pilot in India.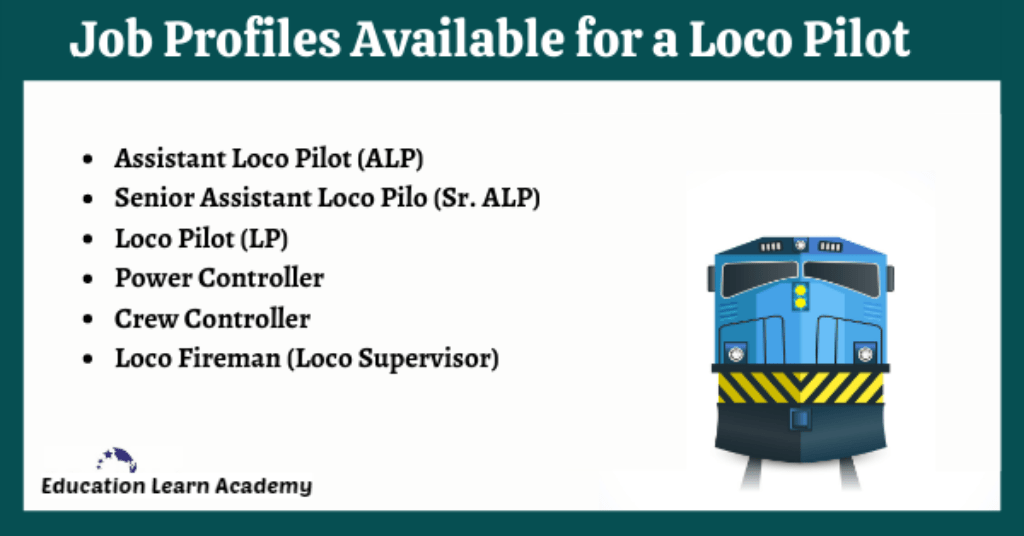 Refer to Course Details to know more about related courses and find details like Admission Process, Eligibility Criteria, etc.
More Also:
Who is a Loco Pilot?
A Loco Pilot is someone who is assigned the duties of handling the locomotives(engines) of a train and is responsible for the mechanical operation and maintenance of the train during transit. To enter into the occupation of the loco pilot, there are certain criteria set by the Railway authority
which a candidate must satisfy before entering into this field. No candidate is actively recruited as a Loco Pilot in the Indian Railways, and this is a senior position. The Indian Railways conduct admission exams to recruit Assistant Loco Pilots, who may be transferred to the Loco Pilots Position or other management posts after completing the program.
Quick facts For How to Become a Loco-pilot
| | |
| --- | --- |
| Industry | Railway |
| Eligibility | 10th and ITI certification or Diploma in Engineering or completed apprenticeship under Apprentices Act,1961 |
| Average Starting Salary | INR 4,20,000 |
| Job Opportunity | ALP, Senior ALP, Power Controller, Loco Supervisor, Crew Controller |
All About Career as a Loco-Pilot
Loco-pilots not only 'drive' the train but also oversee that it runs properly during the journey.
Other key responsibilities of a loco-pilot include –
Making sure that the train runs on the schedule is the responsibility of the Loco-Pilot.
A loco-pilot is responsible for the safety of the train engine and the safety of its passengers.
Performing a system check and making sure no equipment is malfunctioning before the train starts.
Oversee the proper fuelling and refuelling of the engine.
Request backup or assistance in case of any emergency
Suggest repairs to the trains to the Loco-Supervisor
How to Become a Loco-Pilot: Subject Combination
A candidate should be 10th pass and to gain admissions in Diploma programs, must have following subjects:
How to Become a Loco Pilot: Eligibility Criteria
The candidate must be at least 10th grade passed or higher from any board recognized by India's Government.
The candidate must have cleared RRB ALP and Technician exam or various Metro Train operator exams.
Must have an ITI certification from NCVT or SCVT in any one of the following trades:Electrician, Coil Winder and Armature Winder, Electronics Mechanics, Fitter, Heat Engine, Instrumentation Mechanic, Machinist, Welder, Mechanic Diesel or Petrol Engine, Motor Vehicle Mechanic, Mechanic Radio and TV, Refrigeration and AC Mechanic, Turner, Marine Welder
Or
Enrolled in a program under Act Apprentices Act of Government of India under any one of the above trades
Or
Minimum of Diploma in any one of the following trades from any recognized institute in India: Mechanical, Electrical, Electronics, Automobile
Loco Pilot Entrance Exams
For ITI certification, the candidate has to apply to either NCVT or SCVT approved institutes.
For diploma courses, each state conducts its Entrance Exams. For example, for Uttar Pradesh, there is UP Polytechnic Exam (UPPEE), and for Assam, there is Assam Polytechnic Admission Test (Assam PAT)
Steps on How to Become a Loco-Pilot?
Apart from the eligibility criteria and courses that one needs to take up right after class 10th, here are some additional steps that a student should follow.
Decision Making: Only a student with the capacity to handle long working hours should opt for this profession. Depending upon his interest, he can either pursue an ITI trade or a Diploma. Act apprenticeship should be avoided and only undertaken if financial resources limit the candidate. There is a shallow scope of attaining knowledge beneficial in the ALP exams in the physical activity dominant Act Apprenticeship courses.
Types of Loco pilots
Loco pilots can be further classified into varied categories based on superiority:
Assistant Loco Pilots
Assistant Loco pilots belong to the category, who have recently joined as freshers and have experienced between 0-5 years. They generally work under senior-most authority to reach further levels. Their duty is to work on freight train technicality.
Senior Assistant Loco Pilots
Senior Assistant Loco pilots have around 6-7 years of experience and are promoted to the position of Senior authority. They are generally in charge of handling the entire locomotives of the train while ensuring proper maintenance and functioning.
Loco Pilot
After crossing all levels of distance, with almost gaining more than 7 years of experience, a person is being regarded as the loco pilot. They are given the duty of handling loco trains, long-distance travelling trains.
Loco Supervisor/ Head Controller
With gaining experience of almost 10-15 a loco pilot is levelled to the position of managing the controlling and administering the Indian Railway department. An LP can advance to the managerial and administrative sector of the Indian Railways after 15 to 20 years of service.
They can take on management duties such as managing a train's technical repairs as a Loco Superintendent, employing a train as a Crew Director, supervising electric maintenance on a train and the station as a Power Supply, as well as other related duties.
Duties of Loco Pilots
The duties of Loco pilots are;
To ensure the proper maintenance and functioning of engines and handling the repairs in case of any damage. To keep in accordance with railway authority for better performance.
Under the guidance of the Train Management, a Loco Pilot works on a specific train, which includes a train route, limited train speed, evaluation of a signalling error, enough braking power, and safety. The train manager, who is also the leader of the moving train, is on the train at the back end.
One of the major duties of loco pilots is to perform the driving and operational part as basically, their primary job is to handle the train activities such as maintaining train speed, mechanics, and other performance activities
Eligibility Criteria to Become a Loco Pilot in India
A Candidate must have passed class 10th with compulsory subjects as mathematics and Physics.
To qualify for this position, a candidate must have to acquire an ITI certification from any government authorized institute in the engineering field.
You must have done your diploma/certification in any of the core fields mechanical, electronics, or electrical.
You will only be eligible for the loco pilot job if you will clear RRB ALP, or any metro or government-organized technical exam.
Selection Procedure for Loco Pilots
The Selection for getting into the locomotive railway department is based on the performance of a candidate in exams held by Indian Railway.
To qualify for selection, one has to give an exam held in two categories which are done through online mode. CBT1 and CBT2, then next is Computer Based Aptitude Test and the next procedure is verifying documents.
CBT1 lasts 60 minutes and includes 75 problems, whilst CBT2 has 150 questions separated into two parts: Part A and Part B. Part A has a 90-minute time limit and 100 problems, while Part B has a 60-minute time limit and 75 questions. At both levels of the CBT, there is a 33% considerable reduction.
Salary of a Loco Pilot
The salary of a loco pilot varies from 20,000 at a starting stage and it increases with an increase in position. The salary after reaching the management position will be levelled up to 1 lakh.
If you are eligible to become a loco pilot, qualifying for the exam will help you in attaining your goal and continued effort will take you to greater heights.
Engineering Diploma (polytechnic) Eligibility Criteria
The eligibility criterion entry into various state engineering diploma exams is as follows –
The candidate must be at least 10th grade passed
Secured at least 35% marks in 10th
The minimum age should be 14 years
How To Apply For The Exam
To apply for the exam, you have to fill the relevant application form. The Form is available on the official state website. The documents required while applying are listed below.
Passport size photo
Aadhar Card
10th Marksheet
How to Become a Loco-Pilot Abroad
Trains are needed in almost all the countries, whether for passenger transportation or transportation of goods. As such, practically all countries have Loco-Pilots. The criteria for Loco-Pilots differ from country to country, but there are fundamental similarities and notable differences among them.
Educational requirements
It is universally agreed that to qualify for the post of Loco-Pilot, a candidate should have an academic background in Mechanical/Electrical/Electronics engineering or have relevant skills in those areas.
In certain countries such as Australia, one needs to undergo special courses such as 'Train driving Certification' to be able to be recruited as a Loco-Pilot
Meanwhile, countries like the United Kingdom need to obtain a 'train driving license' before applying 'Loco-Pilot.'
Other Requirements to Become a Loco Pilot
It is a universal fact that no country or company offers a Loco-Pilot post to a fresher. Trains are too expensive, and the schedule is too busy to allow a fresher to take the command. One must have at least a year or two of experience as an intern/ trainee/ assistant on a running train.
Benefits of Career as Loco-pilot
There are quite many benefits of careers as a loco pilot, but here are some of the most important ones. Such benefits must be kept in mind while choosing a career as loco pilot.
Salary:
A loco-pilot can earn approximately as much as INR 35,000 – INR 40,000 per month as a starting salary.
Experienced Loco-pilots can earn as much as INR 1,00,000 per month.
Job Security: As there is no private rail network in India, The Job of a Loco-Pilot is as secure as any other Government Job meaning that the job security is very high.
Positive Career Growth: It is the perfect career choice for students interested in exploring various cultures across India and are looking for a stable government job. If the students discover that this is not the profession's profession, their Diploma/ITI can easily land them a private job.
Higher Education: A person can apply for graduation via the distance learning method to manage his time. The Railways permits a candidate to take 'study leaves' to prepare for exams or attend exams. Some courses they can take are-
B.Tech in Mechanical/Electrical/Electronics for Diploma/ITI holders
Diploma for ITI pass-outs
Skill Required For Loco-Pilot
Some of the key skills that are essential to become a Loco Pilot are listed below for your reference,
High Concentration span
Good Comprehension
Quick Reaction
Great Problem-solving and Analytical Skill
Good Short-Term Memory
Good Retention of Data
Able to express via Writing
Career in Loco-pilot: Top Recruiters
| | |
| --- | --- |
| Indian Railways | Delhi Metro Railway Corporations (DMRC) |
| Mumbai Metro Railway Corporation | Jaipur Metro Railway Corporation |
| Bangalore Railway Metro Corporation | Lucknow Metro Railway Corporation |
Salary of Loco-Pilots In India
Relatively inexperienced loco-pilots can expect an average salary of around INR 35,000 per month by piloting freight trains across India. However, Experienced Loco pilots can earn as much as INR 1,00,000 per month in the Indian Railways by navigating express trains like Shatabdi Express, Duranto, and others.
| Organization | Assistant Loco Pilots (ALP) | Senior Assistant Loco-Pilots | Loco-Pilots |
| --- | --- | --- | --- |
| Indian Railways and State Railway Boards | INR 30,000 -40,000/month | INR 50,000-60,000 /month | NR 90,000 – 1,00,000 /month |