8 Ways to Deal with Exam Fear by NEET Coaching: Exam – The mere thought of this word sends a shiver down the spine. Am I right? Exam fear starts with the announcement of the date and runs till the last day. And who would forget the previous day after our exams, when we felt like we have got wings to fly! What an ecstatic moment, as If there was nothing more other than completing our exams.
The 19th-century businessman and American philanthropist Henry Fischel, who discovered exams, must have not thought how this fear would have settled among students in the future.
Has  class 10 and 12th exam fear  gripped you? Chill. Exams help us evaluate our knowledge and understand how well we can apply whatever we have read to solve problems. Try to possess a proper and positive and proper attitude towards examinations which will help you stay calm.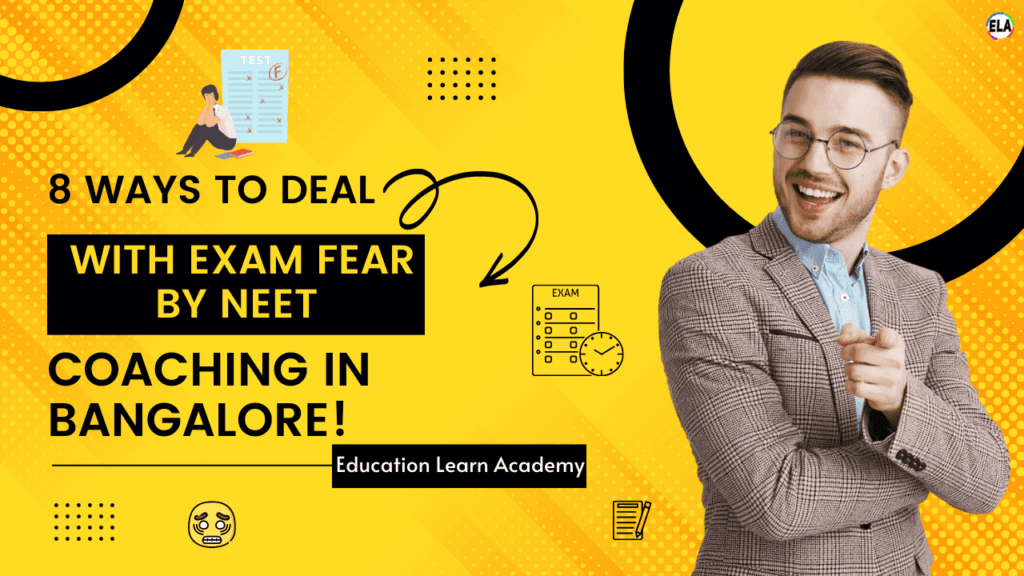 There is enormous pressure on you from family, school, and well-wishers. Fear of disappointing others' expectations, consequences of the results, and so many other exam thoughts creep into your mind. It is natural to get all these feelings. But you must keep all these aside and work hard without wasting time. Always remember this quote, "The man who wins is the one who thinks he can".
This Is my thought

Generally exam is very important in our life I think that things you know that properly. If you give a proper focus on study in whole year and if you proper understand all the subjects so I think no any problems which will create during examination so

I suggest you, you give a proper focus on your study before the examination, and during examination time you can revised all the topic which is main for examination, and second thing you can make a Time-table. I think it's very important, and make a some short notes it's very helpful for revised all topics during examination. Very important things is not to take a tension because

all topics is not necessary to asking in examination,… and if you take a tension so you forgot all the things which was you remember that… . . . I have a doctor so

I suggest you during examination time our physical and mental health is very important… by the purpose of increase your health you should do yoga, exercise and 5–10 minute meditation also.. I think it's beneficial for you.

Before the start examination you pray🙇🙇🙇🙇 your favorite God, it's a increase your Self-confidense. If you follow this so you will definitely achieve a good result in examination without any problems.
What is precisely Exam Fear?
The one thing that most students are usually afraid of since the beginning of time is 'tests.' The term exam is feared by every student. Fever, diarrhea, and other health problems are common among students. All of these health problems are true, believe it or not. This is due to the anxiety and stress they are experiencing during the exam. Exam-phobia is the medical word for this condition. Let's look into the true causes and solutions for exam phobia, as this will be helpful for students who are about to take their tests.
This article covers nine ways to deal with and overcome exam stress in consultation with the experienced faculty of NEET coaching in Bangalore.
Exam Anxiety Causes according to the NEET Coaching in Bangalore:
The first and most crucial reason is to obtain passing grades. Even if they study diligently, few students will be confident that their grades will be satisfactory.
Second, recalling what the student had learned before the exam. Some people will have the primary issue of forgetting what they have learned.
The marks are the third consideration. In today's competitive society, marks are essential in determining self-esteem. If kids receive poor grades, it reflects poorly on their teachers and parents. Their health suffers due to their dread of not getting enough grades.
They will be very stressed if all of their attention is focused on a single test or assignment, and they will be unable to concentrate adequately on their studies.
Low focus in studies indicates social media, games, and other mobile phone activities.
Finally, one of the most severe difficulties is harmful speech. It will be challenging for students to achieve their intended results if they have negative thinking and are surrounded by negative people.
The previous causes must be addressed because they impact students' academic performance. It affects their health. Many students struggle with this fear and experience anxiety and low self-esteem, which should be addressed. The following are some of the steps to overcome the exam anxiety.
9 Ways to Overcome Exam Fear by NEET Coaching in Bangalore!
1. Timetable & Revision:
Make a plan and a timeline for rewriting the portions first. Students' preparation level increases by reviewing the parts. Hence having a timetable and revising every weekend whatever is learned in the entire week is beneficial for every student. This way, you will be confident and won't fear appearing for the exams, says the NEET coaching institute in Bangalore.
2. Mock Tests:
Take appropriate revision and practice tests. We become nervous and stressed when we prepare last minute. To do this successfully, avoid last-minute preparation. Appearing for mock tests will help you understand your level of practice, which will help you know which topics you need to put more emphasis on. Appearing for mocks also enhances your confidence to appear for the final exam, which means you won't fear your exam anymore, says a topper of the NEET coaching center in Bangalore.
3. Proper Rest & Diet:
Take proper rest and eat a healthy diet. The majority of students are unable to eat on time. Skipping food and not maintaining a healthy lifestyle will harm your exam preparation, making you under confident for your exam, which is not suitable for clearing an entrance exam like NEET, says a topper of the NEET coaching in Bangalore. Students who eat well gain strength and learn better.
4. Stop Comparing:
Make no comparisons to other students. Because comparing yourself to others would prevent you from concentrating on your studies. Competition should be healthy, and your primary focus should be competing with yourself. Hence focus on improving on yourself and stop seeing what others are doing. This will only affect your mental health, which will ruin your preparation, advises the NEET coaching institute in Bangalore.
5. Take Proper Sleep:
Get enough sleep regularly. Students will stay active if they get enough sleep regularly. Ensure that you sleep 6-8 hours each day enough, which is necessary for mental and physical health.
6. Don't Learn New Things Last Minute:
Maintain a cheerful attitude and study thoroughly for the exam. During exam time, avoid learning new chapters. Ensure you revise whatever you have learned in the last days of the examination. Don't even try to earn new things last minute because that will do no good to you and put you under more stress. Hence learning new chapters is a big "NO" last minute, says an ex-student of the NEET coaching center in Bangalore.
7. Be Calm & Relaxed:
Take a deep breath before the exam, relax, and concentrate on your public exams. As a result, it will be helpful for all of your test preparations, including board examinations and entrance exams such as NEET and other exams, to say the NEET coaching in Bangalore.
8. Exercise Well & Meditate:
Finally, have faith. Simple breathing techniques, such as breathing in and out, might help you feel more free and relaxed. Relaxation is important and taking out time for us is important when preparing for an exam like NEET.
Only studies and no play will make you feel dull ultimately resulting in affecting our exam preparation. Hence make it a point that you give some leisure time to exercise and meditate or do things that you give you mental peace. Confidence will assist you in overcoming your fears and putting you on the road to success, according to the faculty of NEET coaching in Bangalore.
how to deal with exam fear in 2022
Common symptoms of exam fear:
---
Exam fear may ruin us. This fear may arise due to many reasons like lack of preparation, fear of failure, etc. It is essential to have fear under one's control. Watch out if you have the below symptoms and take proper care.
Anger, sweating, high BP, headache, fear, negative thoughts, panic attacks, increased heartbeat, and even exam fever before the day of the exam. A person gets affected physically and emotionally due to exam fear.
Read
How to overcome exam fear?
You can reduce unnecessary stress and pressure and be a champ with the following tips. Here you go:
Feel confident and stay optimistic.
Create a timetable for every subject and follow it religiously.
Don't postpone revision. Finish it before two days of the exam.
When you are not able to focus, take a few minutes break. Go for a walk and then begin to study.
When it is a complex topic, discuss it with your friends or draw flowcharts for easy remembrance.
Eat properly, and only this will ensure proper physical and mental health.
Practice meditation to increase your concentration.
Highlight important points while reading, which will help you during revision.
Make flashcards with essential points that will make studying more enjoyable.
Never postpone practicing a complicated problem. Get help from teachers or friends and learn to solve it.
Simple tips to overcome exam fear on the day of the exam:
Stay cool. Believe and give your best shot.
Don't skip breakfast.
Check if you have pens, pencils, and all other materials before you leave for the exam.
Reach your examination hall early to avoid last-minute tension and traffic.
Keep your mind calm and read the questions carefully before you begin to answer.
Always stick to time in answering every question.
Allocate 10 minutes for revision before you hand over the paper.
Use quotes to stay motivated
Many get exam fear of exam phobia. Students have this phobia and cannot shine through their exams even though they are brilliant, hard-working, and well prepared. What is the point of knowing everything but failing to deliver due to fear and other negative thoughts? It is highly essential to overcome exam fear and concentrate on your studies. Just relax and calm your nerves. Now a few relaxed exam time quotes to bring a smile to your face!
You can do it.
Don't lose hope. Just keep working hard.
Believe yourself.
You will come out with flying colors! Stay confident.
Now or never! Stay put!
There's nothing to stop you! Charge ahead!
You can choose some good exam time quotes and paste them onto your study table. Reading that every day will boost your confidence.
Read Also:(PDF) DC Pandey Arihant NEET Objective Physics Volume 1 And 2 For NEET 2023 – Free PDF Download
Don'ts after your examination:
For some, the battle starts only after the examination. Discussing with friends, comparing yourself with others, and worrying about your results. Give up this habit! Because if you waste time on the previous examination, you will neither have mental strength nor physical strength to concentrate on the upcoming tests.
Examinations don't leave you after your 10th or 12th grade. It comes along for a long time wherever you go, whatever you do. So, fear not! Prepare yourself as if you are going to face a war. Sharpen your weapons and be bold and cheerful. You should put up a brave fight. And, you should also be ready to face the consequences. Give your 100% and leave the rest to nature or destiny.
Important note to parents:
Support your child by understanding his or her emotional needs during exam preparation.
Provide them with a balanced diet.
Don't compare them with other kids, instead motivate them.
Don't pressurize them for ranks and marks as they are already under too much pressure.
Be considerate and help them in all possible means by providing the required books and just pat them on their back every day.
Read Also: Neet Study Material Books Notes Video E-Books Free Pdf Download
Positive study approach
With proper planning and strategy, you can overcome exam fear and succeed in any examination. Go through previous years' question papers and take some break by listening to music or talking to friends. Get good sleep and also do some exercise daily to keep yourself fit and fine. All these habits will help in instilling a positive study approach. Let the thought of tests bring in lots of positivity, energy, and enthusiasm in you instead of fear, anxiety, and fever.
Final Thoughts
It is not that we hate exams, but we were and are afraid of exams, as it decides our next course of action in life, whether in school, college, or an organization. This is one of those dreadful nightmares that stay with us for a long time in our lives? Isn't it? This fear could spoil you if you don't keep it under check. Relax! Examinations are just a means to assess your skills, knowledge, and memory power. Don't get disappointed if you didn't do well in an exam, instead keep moving ahead. Face it with the right spirit. Best wishes for your class 10 exam!
Read Also: Resonance Study Material For IIT & Jee Free Download PDF
Conclusion:
All the above discussed things are very helpful and every NEET aspirant must follow these to overcome stress and deal with it effectively. Exam stress is common but you if you follow discipline and maintain some essential things then you will surely overcome it. Don't let exam stress put negative impact on your exam preparation and ruin your career. The NEET coaching in Bangalore provides all kind of assistance to its students so that they can have a robust preparation for NEET and crack in the first attempt only.