In today's world, the demand for interior designers is in perpetual bloom. Everyone wants a full-fledged, aesthetically pleasing interior that would turn eyes. Bestowing greater employability and flexibility, interior designing is an intriguing subject that tons of students pursue every year.
Often, students struggle because they don't know where to start. Once done with the 12th board exams, students can opt for an undergraduate course in interior designing. UG in interior design would furnish them with proficient skills and aptitude to build a career in the very field.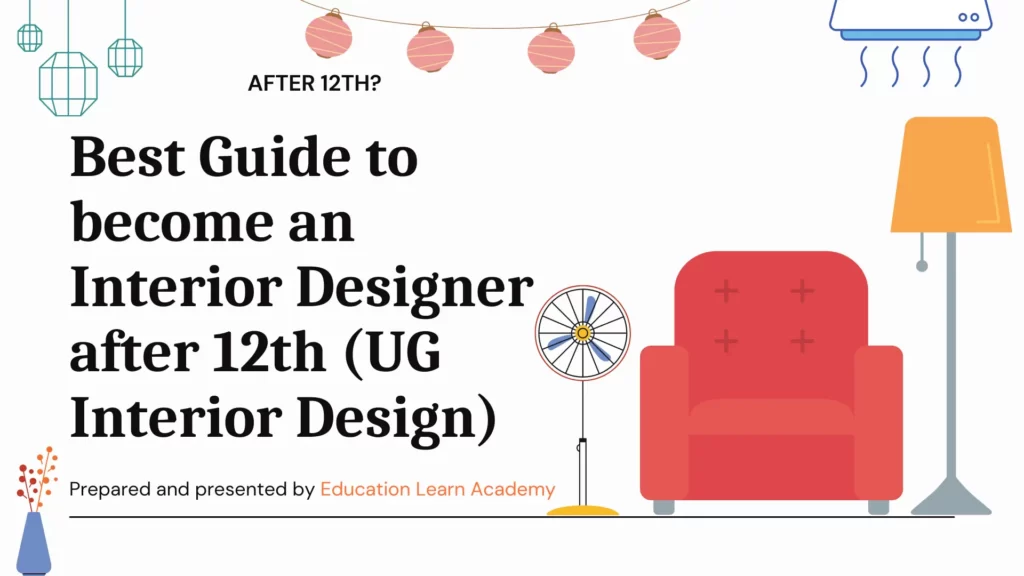 What Is Interior Designing?
Interior designing is the art of applying appealing aesthetics to revamp and augment home decor. It basically enhances the quality of your interior, making it all the more prominent and wow-worthy. Interior designing courses help students acquire the basic skills and comprehension that are needed to perform practical work in this field.
How To Become An Interior Designer?
To become an interior designer, you need to graduate with a professional degree in this workspace. Having completed your 10+2, you can choose a UG interior designing course. There are tons of UG courses available with potential scopes and massive horizons. However, they are established into two distinct levels of study. First, you can choose the typical bachelor's degree (followed by master's) or opt for a diploma course. A professional bachelor's degree can render more beneficial adhering to job employment and growth.
Undergraduate Interior Designing Courses After 12th
Interior designing is the science of comprehending people's behaviour to formulate a functional and beautiful space within a building. There are several top-notch colleges in India (and across the world) that offer UG courses in interior design. Below are a few courses that you can opt for to become an interior designer after 12th.
1. B.Arch In Interior Design
B.Arch is a stream of architecture in interior designing that focuses on the conceptual representation of numerous buildings and complexes. It is a 5-year professional course divided into 9 semesters. You will study several subjects, which comprise software designing, basics of sketching, material studies, architectural appreciation, and so on. The average course fees for this degree accounts to be INR 2 to 10 lakhs.
2. B.Design (Interior and Furniture)
Bachelor of design in interior and furniture is a 4 year-long professional UG degree that emphasises conceptual designs and furniture. It is one of the most popular courses that aims to furnish practical skills and technical understanding. This helps students formulate embellished spaces that cater to the needs of the client. Once you have completed this degree, you will be hired by top design firms, cultural institutions, industry professionals, and community groups. Its average course fee is 2 to 4 lakhs.
3. B.Sc Interior Design
B.Sc in interior design is a 3 year UG science course that encompasses both theoretical and practical aspects of interior design. The course aims to establish a link between the technicality, creativity, and artistic aspects that help aspirants thrive and grow amid the competition. The core subjects comprise design sources and materials, furniture design, material studies, interior architecture foundation, et al.
4. Diploma in Interior Design
A diploma course in interior design is a basic level certification course. Thus, it focuses on clearing the fundamental concepts and principles in the domain of interior designing. The course aims to bestow both theoretical and practical knowledge of the subject. The duration period lasts from one to two years. Depending upon the type of college you opt for, the average course fee is somewhere between INR 20K to 2 lakhs.
What's The Eligibility Criteria To Become An Interior Designer?
To get into the top colleges and pursue professional courses, there are eligibility criteria. Some of the fundamental qualifications to study interior design is:
Candidates should have passed 10+2 with at least 50 per cent aggregate from a reputed board.
To pursue a diploma course, students must pass 10+2 with a 50 per cent score. However, one can pursue a diploma course after the 10th board as well.
For a UG design degree, candidates must appear for an All India Entrance Examination (AIEED). There are different entrance examinations for different colleges.
To pursue MBA in interior design, students must have completed their bachelor's degree with a minimum of 45 per cent from a recognised university.